I couldn't help but delve into another travel inspired post for you all today – mostly because I am a got a severe case of the itchy feets and wanderlustin'. Now I understand that my experiences are quite bias in some respects, as I haven't seen nearly as much of this incredible continent as I one day hope to, BUT I still was fortunate enough to have had encounters that have etched their place in my heart.
1 // IGUASSU FALLS, BRAZIL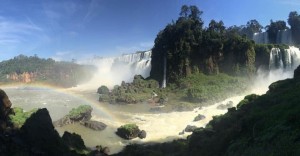 When I reflect back on my trip, my visit to the falls stands out as one of the most awe inspiring and impressive experiences. The power, beauty and energy of this sacred site had me literally awestruck at every turn. As I walked from Devils' Throat to the Three Sisters vantage point – every view and twist and turn just yielded more and more impressive scenery. I have never had a greater appreciation for nature and I think you would be hard pressed to find someone who wasn't profoundly inspired from their time here. The boat ride, which sees you travel to the foot of the falls and get absolutely soaked by its spray, is not to be missed. I explored both the Brazilian and Argentinean sides and whilst the walks and trails of the Argentinean side were more my jam, I absolutely adored being able to stand back and take in the falls, in their entirety, from the Brazilian side viewing points. Iguassu Falls have been named one of the seven wonders of the world (in an updated little list I'm told …) and for darn good reason. Just put it on the bucket list and go.
2 // THE SALT FLATS, BOLIVIA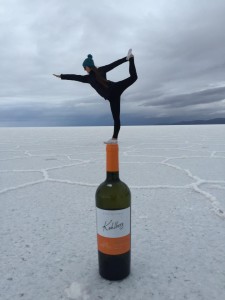 I was pretty pumped to see the flats and had actually added Bolivia to the itinerary solely for their inclusion to my 'must sees' – but I was completely caught off guard when this place blew my freakin' socks off. The sheer size and brilliance of the flats is indescribable. Stark white vastness for as far as the eye can see; incredible sites along your journey that make up the national park; encountering four seasons in the space of a few hours … Most companies offer tours, starting from Uyuni, that include a three or more day excursion to the flats. You will cruise around in jeeps, for sometimes hours at a time, and I don't know how or why – but it'll be the absolute best time you've ever had on four wheels. The exploration and journey were truly as impressive as the sites and destinations themselves.
3 // INCA TRAIL, PERU

I think this will be one of those experiences that I annoy my grandchildren with countless retellings of, photo sharing (or hologram sharing, whatever we are up to by the time I'm a nonna) and 'when I was a young girl …' trail offs. I added this venture to the itinerary solely for its end point, I wanted to see Machu Picchu, and kind of felt like if I was going to do that, I may as well walk on into it just like the Incas did. If I was to head here again, actually lets revise that, when I head to Peru again, I will be returning for the trail. This was, without a doubt, one of the most defining experiences of my adult life. The scenery along the trail boasts some of the most magical and preserved sites that you are ever likely to see; the people are unforgettable and the adrenalin-endophin laden end point is phenomenal. There's a reason why this bad boy was nominated the number one travel destination for 2016.
4 // COMMUNITY VISITS + HOME STAYS, MISC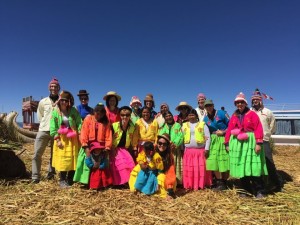 When booking through a tour company, like G Adventures, you are often given the opportunity to enjoy a home stay experience. Let's clear something up – I am a vivacious, energetic, talkative little chicka but don't be fooled – I was so beyond nervous for this 'out of my comfort zone' task. To live with and connect to people from a totally different culture, who speak a different language, who live a totally different lifestyle, who are forty years my senior … I was terrified. But mid potato harvest, my friend and I looked at one another with the biggest (albeit dustiest) grins on our faces – it was one of the best things we had ever done. This is a side of travel that kind of gets overlooked in favour of lush hotel stays and restaurant fine dining, but really this is what travel is all about – to connect with people all over the world and to grow in our knowledge, awareness and appreciation of other cultures and histories. My heart grew tenfold, as dig my biceps from hoeing like a mad dog, from my time at Laquina.
5 // YUNGUS 'DEATH' ROAD, BOLIVIA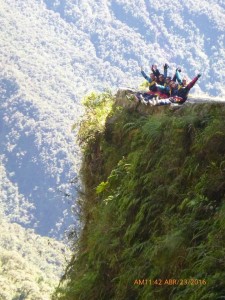 Rounding out the list of unmissable experiences is a heart thumping, adrenalin soaked and sweat bustin' ride along the world's deadliest road. This was something that wasn't even close to being on my 'to do' list whilst travelling but, like all great things in life, it somehow weaselled its way into my itinerary and cemented its place on my 'best.day.ever' list. I wrote a really thorough review of my Death Road experience a while back, so I won't bore you now with a repetitive recap. What I will do is leave you with a link here for booking your Death Road adventure … go ahead. I double dare you.
Blessings and wanderlust-a-paloooooooza x