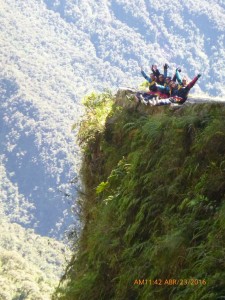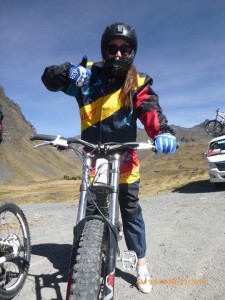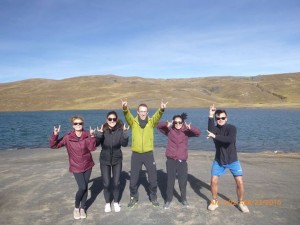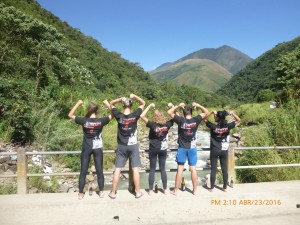 Cryptic title hey? I realised that all of our post ride celebrations were solely focused on our success & our conquering of the world's most dangerous road – which, yeppp, is amazing and well worth celebrating (because, life) but I realised that there were certainly parts of me that didn't survive the treacherous journey & some that I left behind.
Fear & lack of self belief have no place on death road. You're your own worst enemy on the path, and your own best friend. It's solely your responsibilities & actions that will determine your safety AND enjoyment on the day. Scared Emily, the Emily who nearly bailed 100 times & who drove the agency guides crazy with questions and death statistics, was quickly killed off in the first few kms. Scared Emily would have had a shit day & absolutely ruined the incredible, pure, adrenalin soaked experience that the ride should instead offer. Instead, ballsy Emily, the Emily who knew that this trip was all about facing fears, committing to the previously unthinkable & unachievable and who has developed the most cast iron, strong, impenetrable belief in trusting the universe – SHE was the one who took over at kilometre two. And thank fug because it was seriously the most amazing thing I have ever done.
THE DEETS
Death Road (Yungus road) is classified as the world's most dangerous road, apparently claiming the lives of 300 people every year. A huge number of companies offer adventure rides to this national landmark but, and I can't stress this enough, do your research because all companies are not created equal. Sure you might pay a few hundred Boliviano more for a better bike or gear or guide service – but how much is your enjoyment & safety worth? Priceless right? We went with Altitude, who had come highly recommended via G Adventures & word of mouth, and who exceeded all of our expectations. The ride is about 5 hours, mostly downhill but with some stretches of flat terrain where you do in fact need to peddle, a lot. We were panting like dogs and sweating like pigs by the end. It's broken up into two parts – the 26km stretch tarmack that offers you opportunity to test your bike, get your confidence up and to give you a tantalising taste of the incredible scenery that awaits. Then the second part is Death Road, about 3 or so hours of cliff hugging, rock skidding, waterfall scattered, adrenalin pumping magic. You start at approximately 4100m above sea level in the freezing cold and then work your way down (down, down, down) to the hot Bolivian jungle at approx 1700m above sea level.
THE DAY
Our amazing guide, Santos, from altitude was phenomenal & was the perfect blend of professional, fun, cheeky, supportive & adventurous. He and our driver, Luciano, set us up with bikes, gear, snacks, safety briefings & continuous support over the whole day. Santos said something to us on the way back that really struck a chord with me – being the hippie little soul that I am – and whilst thanking us for being such lovely participants & good riders, he said something along the lines of "its days like today that I know this road has life. If people come, scared & serious, it's foggy, rainy, and no one enjoys as much. But you came, happy, open & ready for it – that we had the best conditions, sun & fun". I freaking LOVE that. The mountain can sense the energy of its riders & the day is a reflection of the interactions between the two.
We were picked up from our hotel at 8am & whisked off on an hour's drive up, up, up to our starting point. Once there (& rugged up to the shizhouse because it was SO bloody freezing) we were given – our bikes, pants, jacket, elbow & knee pads, gloves & a helmet. I'm fairly certain that my jacket & trousers were once owned by Austin Powers' Big Fat Bastard because I scarily resembled the Michelin man in all my gettup. We then got a very serious talk & safety briefing about the bikes, our responsibilities & the ride. It kind of instils a sense of fear when someone is saying "whatever you do, don't do x" and your brain kind of just says "oh god, I bet I do x". But I cannot stress the importance of listening to your guides & following & trusting what they tell you. They're experts & they want you safe – do as they say (side note – don't do as they do because ours powered around corners like a bloody road runner & maintained a pace that could be likened to a whippet).
We then started our descent along the paved road, lapping up the reassurance & security of a clear road & gaining a little more confidence with every km. I couldn't rave more highly about our bikes – the shock absorption on these bad boys were amazing & it meant that every bump, rock, pothole or river didn't automatically result in your death. Cars & vans do share some parts of this first bit & it was a little scary but if you, again, listen to the advice of your guides, stick right & peddle with confidence – you'll be fine.
We got to the entrance of death road – powered up with water, coffee & snacks before donning our suits again for the beginning of death road. Here's the thing – it's notorious for its challenging terrain & sometimes treacherous conditions – but it's so doable. The scariest bits were, for me, when we took a sharp turn, cliff side with no railing & when we were in sections that were entirely paved with loose rocks & your only kind of inevitable movement was skid-like. That's all. The rest of the journey was unlike anything I've ever experienced & anything that I could truly capture//represent in words. The cliffs rolled into the most incredible valleys, the snow capped mountains dotted the uphill focussed view, the waterfalls & greenery were fairytale-esque & the whole experience was one that made me both realise & appreciate the preciousness of our natural world.
We finished, sore handed from clutching at brakes, sore assed from the seats & competely & utterly high on life, in 35 degree sunny weather where we enjoyed a beer & excited 'we aren't dead selfies' whilst our bikes were cleaned. Presented with our 'death road survivor' shirts – we posed for a few more photos & then the company piled us all in the van once more & took us to a hotel where a buffet lunch & cold pool were waiting for us. We ate, drank, swam & all exchanged "HOW FRIKKIN AMAZING WAS THAT?!"s for the next hour, high on adrenalin & with a profound sense of achievement.
Then we boarded the van for a 3-4 hour journey home. Via death road. This was still scary as there were sections were clouds were so low, you couldn't see the car//space in front of you, and people were overtaking like madmen. We literally were in a double overtake situation where we overtook a car to our right, only to have ANOTHER car sneak past our left & get around us! We all assumed that we would sleep on the way but … Nope. We played loud, trashy music with poorly written lyrics & drank way too many beers whilst consequently having to disembark the van far too frequently for natural toilets. Yep. Me and my newfound (read: lifelong) friends squatted pretty much in lines along the sides of death road for roadside widdles. All class. This adventure was also the last of the the scheduled activities that I was able to share with some of my very closest friends – who had left our tour for their own independent travels the night before. Sharing this experience with them, a final hurrah, made it all the more special. And all 5 of us were expressing our gratitudes, professing our love & saying how thankful we were to have formed such amazing friendships on this tour.
We returned to our hotel at 7:30pm, quite tired but keen to party & continue the celebrations. With quick cuddles & poorly spoken 'mucho gracias' to the driver & guides – we farewelled our brave little friends & thanked them for the best day of our lives. At 9pm – the company dropped off a cd that contained all our photos & footage from our day. Amazing.
Hot tip – Tip. The drive is risky & I got the impression that the driver doesn't see too much of the actual profit from what tourists are charged. Also remember to make it fun for them too. We got photos with them, played music & danced with them, shouted them a beer, spoke very shitty Spanish to them & they kept saying how much they enjoyed having us. It's a long day for them, don't make it any longer. Kindness goes along way.
Final notes – if you're going to La Paz, please please please consider booking in the death road adventure ride. I can't believe that I almost didn't do it. I was gripped by fear & certain that something bad would happen – but I knew that if I followed the rules, took my time & just enjoyed it got the entire experience that it was – it would be the most rewarding experience. And it truly was. Yes it's dangerous but almost all the bad stories that you hear are ones where the riders are being silly, overconfident or just plain ole stupid really. Be aware of the road, stay focussed & trust trust trust that you'll be fine. And PLEASE book with a reputable company – I can't recommend Altitude enough.
Blessings & sore ass cheeks x