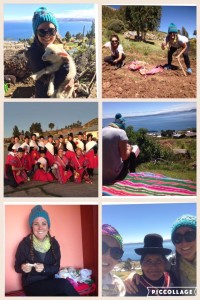 Peru, like Bolivia, felt like a big ole bag of uncertainty when we approached this leg of the trip. I sat, in complete overwhelm & maybe even a trickle of fear (possibly influenced also by it being the evening before death road) during our welcome orientation with our new Peruvian guide, terrified of what was to unfold over the coming weeks. A potentially deadly bike ride, saying goodbye to dear friends, staying with locals who speak little to no English (with this mamasita's Spanish rather sub par), the freakin Inca trail & finally the solo journey home to Australia.
Everything felt scary & raw & real & I just wanted to crawl under my Bolivian duvet & stay there until my fly out date arrived. But, as I guess is a perfect analogy for life, whilst traveling you literally have to just keep moving, embrace the unexpected & trust that (just as they have before) things will always work out.
So we embarked on the border crossing, farewelled Bolivia & entered Peru on Sunday afternoon. Cloaked with a newfound bravery since my "never thought I would do that" Death Road ride, I started to realise that the things that scare us often turn out to be the experiences & opportunities to learn more about ourselves & our world than any else.
We arrived in Puno, a small & not-too-much-going-on city, late afternoon & graciously accepted our guide's offer of a city tour & dinner once we had all showered & washed the 8 hour commute off our dirty little backpacking bodies.
The next day offered the opportunity to explore the islands of Lake Titticaca. Although there's a strong Catholic following in South America, those of you who know & love me will get how much I lose my shit over this, their greater gods are Pachamama (Mother Earth), mamacuća (Mother Lake), Sol (the sun) & Luna (the moon). They worship these Gods & live with a profound appreciation & respect of the elements of our planet. I know right, spiritual boner ahoy.
We started our journey via boat where we headed to our first island visit to Uros, a man made floating island that is home to a gorgeous family who welcome tourists lovingly. The island is made primarily of reeds, which are layered & arranged atop a base of compacted soil bricks & anchored to the lake's base (you know, to prevent drifting). The family have adopted a very hunter//gatherer lifestyle – with the men of the island fishing, catching duck etc. Often supplies & produce are bought or traded at the mainland or at other islands. The family took each of us into their little home & began to dress us in vibrant traditional garments. We posed for photos & had the opportunity to peruse their handicrafts that the women & men create in a bid to make the most of the tourism that the island attracts.
Next we headed to Taquila, a much larger island, which challenged us all with a 25min uphill walk (in altitude shit gets hectic, pronto) to our incredible hillside viewpoint where we were served quinoa soup, grilled trout & muña (a type of Peruvian mint) tea. We learnt about the significance & colours of the garments, courting rituals & lifestyle of the Ayumara & Ketchwa (oh yeah, no longer write my sub par Spanish skills even a relevant issue. We had to learn a brand new language) people. The island offered gorgeous views of Lake Titticaca, as well as the distanced silhouette of Bolivia & the Peruvian mountain ranges. The main square has two open market places where textiles, bracelets & clothing are sold by locals. I got sucked in to buying very cringeworthy traveller woven bracelets but for 1 soles each (.30AUD) I didn't really mind.
Finally we headed towards our homestay, where we would be introduced to our new Islander mummies & daddies, and to the place we would call home for the next 24 hours. We arrived & congregated at the school's soccer field. We were, in pairs, introduced to our host family. Jess & I were welcomed to the island by Papa Jesus (Yep, that's right. I got to stay with Jesus) & Mama Rosa. Papa dressed us each in three layers of brightly coloured skirts, a black cropped jacket with neon detailing, an ornate belt whose tension could be likened to an Elizabethan corset, a badass black hat & a Pom Pom string that we were to hold from our right hand. The community welcomed us with a dance & then encouraged all of us to do the same. We sucked. But had lots of fun.
Jesus led us up the hill (he seriously lived on the frikkin top of get-effed mountain) and were shown to our gorgeous, bright, oh so Peruvianly decorated bedroom. We changed out of our clothes & headed to the 'cocina', a separate building of the property that was used as the kitchen//meals are. Dinner was delicious (all vegetarian, hells yeah) & we were given huge portions of soup, rice & potatoes. With a muño tea just before bed. Jess & I (both uber basic in the old español) really challenged ourselves to learn more about our gorgeous family so we consulted translation apps, our language books & a little flier we had been given by the tour company to find out all about our gorgeous host parents, their life on the island & their family. We were surprised (and quietly, super impressed) by our ability to overcome the language barrier & really connect with Rosa & Jesus.
In the morning – we kicked things off early with a 7am kitchen date with Mama Rosa (read: forgetting to set an alarm & waking up 7 minutes before said date & ninja kicking our way out of our Peruvian duvets). We helped her make breakfast by rolling, stretching & shaping the bread dough. Breakfast was the best of the entire trip with freshly made bread, jam, fresh eggs from their chickens, delicious coffee & a gorgeous view. We ate every mouthful with a massive smile on our face. The smiles didn't stop there – we then were told by Papa Jesus that we would be accompanying Mama for our duties//activities for the morning. She led us to the paddocks behind the house where the most GORGEOUS frikkin farm animals awaited us. Star of the show was definitely the baby donkey – a beautiful, tiny, big eyed fluffy darling. We helped to feed the donkeys & cows before being assigned sheep wrangling duties. After way too many cuddles with a baby lamb – we led the sheep via ropes to the paddock in front of the house. Next job, which will sound tedious & horrible but turned out to be one of Jess's & my'a favourite experience ever – was harvesting potatoes. Mama Rosa showed us how shit gets did, Lake Titticaca style, and starting hoeing up the potato field like a mad woman. Jess & I then hoed, dug & collected over 24kg of potatoes (red, white & black varieties) over the next few hours. It was amazing! We were so in awe of our host mama's strength & ability, and also impressed by the yield of potatoes from their land.
Lunch was served early afternoon & was again, an amazing meal of soup, vegetables & a delicious corn & cinnamon drink. Turns out that Mama Rosa is quite the artist & we were able to look through her collection of crocheted & knitted pieces, buying a few gifts to bring home.
Our farewells with our families were emotion soaked, bilingual, very very sad waves & cuddles as we thanked them for their hospitality & for their offer of the most incredible homestay experience.
If you ever have the opportunity to visit (or even better, to stay overnight) within these communities – please say a big 'si' & soak up every minute of being lucky enough to immerse yourself in the culture & lifestyle of these beautiful people.
Blessings & muchos abruzos (lots of hugs) x