Since my first O.G [Original Gangsta] entries for the Hot Hippie series here and here, so many of you have expressed an interest in learning more about which brands promote kind, fair, natural and earth friendly practices and ingredients. Which is just amazing – the industry has really experienced a shift as of late and is totally a consumer's market, with so many of us able to take a stand on the values and practices that we want our consumables to reflect. Case in point, the makeup industry.
Ok so here's a bit of a heart-on-sleeve spill on why I'm so passionate about this topic. I am far from a girlie girl, I rock a pretty simple look and I seldom go crazy with hair and makeup. BUT when the occasion does call for it, I am all for splashing out and chasing a killer look that declares 'lock up your sons ladies, I'm here to cause trouble'. Often these social outings and more high end events are met with pretty high amounts of anxiety. Here's why : I spend 99% of my time making choices that support and promote the world that I wish to see and exist in. I care so greatly about what I put into my body and what I put onto my body that when these events call for a little more extravagance, I don't want my beliefs and preferences to hold me back from participating. So, I'm often faced with a choice, disregard my values//priorities for the evening and fake it to participate; OR rock the au naturale look and feel out of place next to my crew [of absolute knockouts and solid 10s]. That doth not make for a happy evening – sell out or feel shitty. I decided to stop wallowing and be proactive, researching brands and products that aligned with what I was looking for and what I was about. When a big event popped up on my social calendar [cue the wedding of one of my closest gal pals] I went one step further and had a look into local make up artists who offered cruelty free and natural cosmetic options. What did I find? A treasure trove of brilliance. Enter – The Makeup Factory.
The Makeup Factory [tmf] is an Australian owned and operated cosmetic brand that offers organic, cruelty free, chemical free and eco-savvy packaged products. One of their outlets, The Style Armoury, is conveniently located on George St in East Fremantle and stocks all tmf products. Makeup applications start at $80 with your session redeemable if you spend $100 on products [which, is totally easy to do once you've sampled and is incredible value for money]. I was served by Bianca, a beautiful make up artist who was so chilled and easy to chat to, the hour flew by and she talked through all the products with such obvious knowledge and passion. I learnt that the founder, Jill, is herself a makeup artist with years and years of industry experience who simply grew tired of all the nasties that she saw going into the products that everyone was using. Her philosophy was simple, to create a line of products that gives back to our skin, infusing goodness into our pores rather than leeching the goodness out and replacing it with the not-so-nice stuff. Think of it as rocking an all day face mask that actually blisses out your skin and makes you look like Yoncé. Win, frikkin, win.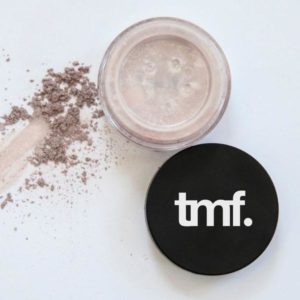 // THE SPECS //
I was wearing a block coloured, gun metal, dress and therefore opted for a more bold sort of makeup look to feature. I had a few snaps (read: instagram screenshots) of looks that I was sort of leaning towards, but ultimately entrusted the job to the expert with the makeup pallette. To make this post accessible and easy to work through//follow – I've listed the specific products used below and my experience of them. Please note – this is only a small sample of what's available so be sure to pop in, have a play and visit and find you're own unique combo for your next event//occasion.
tmf Skin Perfector Vegan Liquid Foundation –  This stuff is joy. Applied with the tmf vegan foundation brush, it feels oh-so light and breathable on your skin. I commented to Bianca during the sesh just how light it felt on, and how refreshing that was after usually feeling like my skin had to hold its breath for 10 hours whenever I wear conventionally manufactured brands. It's infused with the goodness of aloe and honeysuckle extract – so naturally, I smelt delish. I had my application done early in the day and it stayed put for 14+ hours (with only a quick touch up using the pressed powder, see below). I washed my face when I got home and it was easily removed with my Sukin Cleanser with no post makeup breakouts or blocked pores. I honestly think my skin looked a little healthier//glowier the next day (after the world's worst break out the week prior …). Bianca used a rose geranium mist to set the foundation, and leave me smelling like a delish bouquet.
tmf Flawless Mineral Compact Foundation – Used within my makeup application as a finishing powder, and then by me later on for a bit o' touchup, this product is uber versatile. It serves as a concealer, foundation and powder and is infused with Mica, a skin reflective mineral that gives a lush glow and promotes lovely, healthy, radiant skin. I've since used this product as an everyday foundation and was very impressed by its coverage, gentle feel and gorgeous sleek design. Two thumbs up from this chicka.
tmf Flawless Mineral Blush – This bad boy is available in two colour options – Suki and Rosie – with the combination able to be used to contour and then flush a little bit o' colour. It's made with grapeseed oil (anti-infammotory and skin repairing); sunflower seed oil and rosemary leaf extract (natural antioxidant).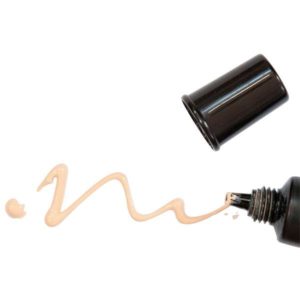 tmf Lip Pencils [Barely There] and Vegan Lips [Bianca] – I am not a lipstick girl. I love nothing more than a simple slick o' pawpaw or Hurraw balm. Much to the dismay of my sister and mama bear, who always encourage a more lipsticky look, I just don't swing that way. Well, I may have very well been converted after sampling tmf. These beautiful products boast high quality ingredients such as coconut oil, cocoa seed butter and castor seed oil that nourish, moisturise and heals the skin.
tmf All Natural Mascara [black] – I have pretty decent lashes, thanks to a very pedantic habit of always removing mascara before bed since my teen years, and don't need to much product to make them 'evening ready'. I know, modesty is my middle name, right? The tmf mascara is enriched with chamomile extract, vitamin E, lemon + grapefruit extracts to strengthen, length and thicken our lashes, naturally. And the proof is in the emotional mess of a pudding [aka – me] as my mascara adorned peepers stayed intact throughout the teary ceremony as my friends exchanged 'I dos'. Sold.
tmf Brow Set Pomade + Flawless Brow [powder] – These bad boys just hit top spot on my wish list. It ain't no secret that a strong brow game is trend as fug right now and my Italian heritage means that my brows are more often 'fek!' than 'fleek'.  The tmf brow set + powder helps you achieve the perfect brow with natural clay and candelilla wax. Next paycheck, these babies are getting bought-ed.
tmf Eyeshadow Range – Unfortunately these weren't available at the time of my makeup sesh, fortunately they're launching very soon. I actually had an interesting experience within this recent makeup application – as they didn't have the eye products available, I had agreed to using the artists' MAC products to give the look I was after. My skin did NOT agree with this and my eyes were irritated at the corners and lids throughout the evening – with a 'makeup hangover' of dry, flaky skin on my lids. It just enforced, for me, why I choose the products I do and why these incredible companies are so needed. So, watch this space, change is coming. And it'll make your eyes sparkle.
Blessings and [kind] lipstick laden kisses x
Images sourced from The Makeup Factory