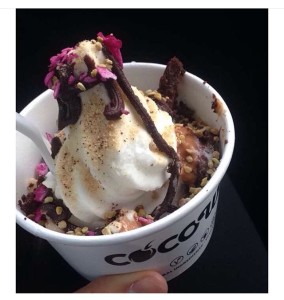 I'm-a shake things up today (hey – it's just the mood I'm rocking as of late) so today's Feed me Monday is less 'recipe' and more 'share-ipe'. If you haven't heard of or seen the delicious Cocowhip creations that have been dominating social media and popping up at locations all over – you may be missing out. These bad boys offer a kinder, cruelty free and healthy alternative to soft serve icecream, are delicious and are the perfect Summer treat! But – like many people – you may be wondering what the bleep Cocowhip is, and how exactly this too-good-to-true concoction is even possible. Never fear – I got chu.
INGREDIENTS :
– coconut water (whipped into a frenzy)
– biofermented probiotics (for gut//intestinal health – hells yeah)
– optional superfood additions and toppings!
WHAT IT GIVES YOU :
– a mouthgasm
– antioxidants
– hydration
– beneficial gut bacteria
– good fats
 NITTY GRITTY DEETS :
– completely plant based (vegan//dairy free//gluten free//cruelty free)
– 96 calories per 100g serve
– 7.2g sugar and 3.7g fat per 100g serve
HOW THE HECKEROONIE CAN I GET SOME :
– Check out the website over at Cocowhip HQ and pop your postcode into the search bar – For fellow Dunsy locals, we are super spoilt with a new food van in town. Kona Joes' Health Shake is officially my new favourite thing. These guys (two beautiful sisters who own//run the van) are absolute gems and serve up acai bowls and coco whip at various seaside locations in the South West. Adore!
Blessings and oh so very much whippy love x