Happy Monday lovers. After a ridiculously busy week (and weekend) I am listening to my body and trying to slow down a little. I am exhausted and am mindful that to be my best self, to be of service, to give abundantly and generously to those around me – I need to prioritise my own health and wellness. So kiddos – that's what I'm gown' do! Breathe and reboot. 
Breathe, exhale, breathe, exhale and re-freakin-boot.
But I couldn't leave you hangin' considering it's recipe Monday! Since my love has up and left me for the lure of rural worklife (aka FIFO) – I have had free reign in the kitchen. So what does that translate to? Kale. Lots of kale. Dave likes kale but only when steamed or oven baked, he does not understand how I can (happily) munch on the raw leaves. 
You know what that means party people. I have gone bat-shit-crazy over raw kale this month.
Today's recipe is a beautiful salad courtesy of my Vegan Planet cookbook – but well worth sharing. The dressing is absolutely incredible and so derish.
Goddess of Kale Salad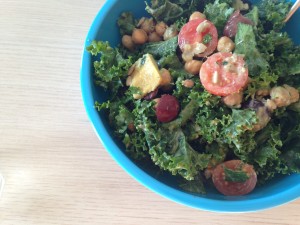 For the salad 
1 bunch kale
1/4 cup kalamata olives (pips removed darlings)
8 cherry tomatoes (halved)
2 Tbspns sunflower seeds
1/2 avocado (chopped)
For the dressing
1/4 cup silken tofu
2 Tbspns lemon juice
2 tspns soy sauce
2 tspns rice vinegar 
2 Tbspns parsley (chopped to the shiznit)
2 spring onions (chopped) 
1 garlic clove (crushed) 
1 Tbspn almond butter
2 tspns agave (I used 1tspn maple syrup)
Salt and pepper to season
I took a little 'poetic' license with this dish. I added all dressing ingredients to the food processor and whipped into a delicious frenzy. Then washed and prepped all of my salad ingredients. I also felt that this dish wasn't filling enough for my hungry night tummy so topped it with homemade roasted chickpeas – these were so delish – just organic chickpeas, rubbed with a little olive oil and seasoned with salt and pepper baked in the grill oven at 180 celsius for about 10 to 15mins. Crunch. Simply rub the kale with 1/4 of the dressing and set aside for it to 'marinade'. Then top with the remaining ingredients and add extra dressing if need be. I saved my dressing and used it during the week, atop salads or as a dipping sauce with carrot and celery sticks! Enjoy the power of the greens my munchkins.
Blessings and a happy belly full of kale x