[I recently discovered the tattered little journal that I carted around South America with me in 2016 – and the memories, a year on, are still as joy//happiness//heart bust inducing as they were when they were scribbled down. So what better way to upkeep the 'travel' portion of the blog (whilst my current travel plans are no more exciting than the 'home' to 'work' commute) than to delve back into the archives, into the experiences, sights and sounds and to share them with my darling little readers. The writing quality is poor, the excerpts tiny but the stories are raw and real. Enjoy x]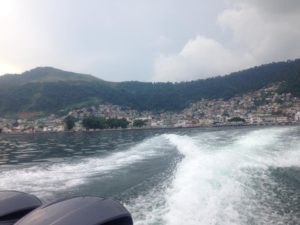 Speedboating from the mainland bound for Ilha Grande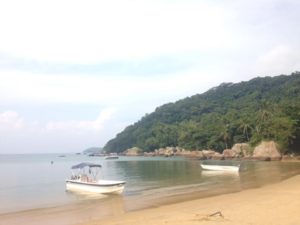 A sleepy bay on Ilha Grande

1/4/16
A small group of us took an island speed boat out to the other side of the island (Ilha Grandeé) to Lopez Mendes – a gorgeous and perfectly preserved little section of beach. It had a variety of food and drink stalls scattered along the back part of the beach that met with, and bordered, surrounding bushlands. The waves were massive, the current was insanely strong, but the overall beach was simply stunning and we chose to just chill here for the better part of the day. To access the beach, we needed to go for a mini (emphasis on the mini) hike, which actually almost killed me and made me all the more terrified for the upcoming Inca.
The beach itself was gorgeous but, at the same time, made me all the more grateful for the incredible beaches back home in Australia. We headed out to a lovely beach restaurant for dinner, marked by a massive tree at its entrance that was littered with lanterns. I had a yummy vegan plate (since coming to SA, all of the meals have featured either fish or dairy, so I was so grateful to find a vegan dish that wasn't acai).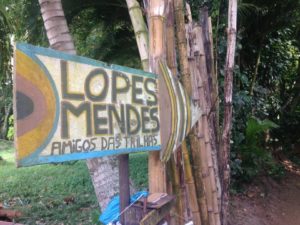 Entrance track to Lopes Mendes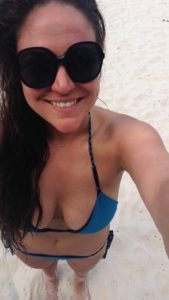 Because if you didn't do a beach selfie, did you even go to Brazil?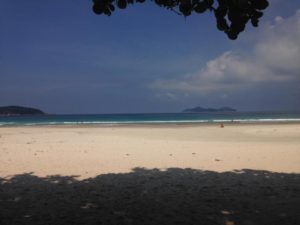 View from Lopes Mendes
After dinner, a few of us headed back to the beach and found pop up bars and food stalls set up along the shore line. We pretty much bee-lined to the caipirinha bar, and perched ourselves on a cosy sandy patch. As we sat, chatting away, a comet lit up the sky and set the night ablaze. It had a burning green tail and was unlike anything I had ever seen before. I felt so blessed to have experienced such a magical moment. Every now and again I am reminded, in moments like these, that I'm in another country (one that has topped my bucket list for years); on my own (in all respects) and in full health. So bloody lucky.
E x