If you have any sort of specific requirements within the realm of your food and diet – whether it be due to intolerances, religious or ethically governed food choices, sensory aversions, etc – meal prep and cooking may be met with a lot of stress and anxiety. But it certainly doesn't have to be. There are so many wonderful avenues to explore across books, blogs, youtube channels, television shows, newspaper columns – we are swamped with recipes, options and food porn on the reg. Sifting through the good [raw pizza], the bad [chocolate sludge being sold as 'raw pudding'] and the ugly [green smoothies feat. questionable brown discolouration] can be a mission. Cue your mate Emily.
As of late, as life gets pretty crazy busy and I need to find calming and therapeutic outlets, one of those has been in the kitchen. I've been experimenting with so many plant based wonders, from paella to tacos to croquettes to desserts, and thought it only fair to share the yummiest of these with you. Adventuring is about diving into unfamiliar territory, about finding what new and exciting things we might create. So, although my adventures have been a little less up in the air and a little more in the kitch, they are none the less filled with wonder, joy and a few delightful eff ups. Like all good adventures, right?
// Raw Burritos //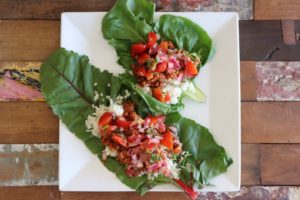 I came across the ever amazing Laura Miller [of Raw. Vegan. not Gross] on her youtube channel and she knocked mah socks off from the first video I saw. She is my latest #WomanCrushWednesday with her passion, hilarity, epic fruit and vege inspired wearables … and I fell into a deeper crush when I realised that she had an epic recipe for raw burritos that looked so simple, so healthful and so delish. I flagged it for a trial that night and invited one of my soul food lovin bendy friends to come and feast. We gave it two big and green thumbs up – so joy. I don't want to infringe on any copyright so I'm going to instead send you guys over to Laura's vlog post where she details and demonstrates how to make dis plate o' yum.
Next creation was fashioned on a dreary Saturday afternoon when my tummy was hankering for something a little more comforting and warming. I had a ridiculous amount of raw cauliflower rice left over from the burritos so, what better way to utilise this surplus than to make a no grain cous cous inspired Middle Eastern dish?
// No grain Cous Cous and Chickpeas //

1 head of cauliflower
1 cup chickpeas
1 Tbspn coconut oil
1 Tbspn cumin
2 tspns smoked paprika
Using a blender 0r food processor, process cauliflower florets until it resembles rice consistency. Heat oil over medium heat in pan, and add cauliflower, stiring regularly to ensure it doesn't burn. Add chickpeas and spices. Continue to cook until chickpeas are heated through and rice softens, usually approximately 8-10minutes. Season with salt and pepper and serve with fresh coriander.
// Raw Cinnamon Scrolls //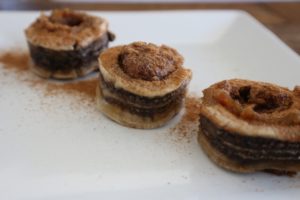 Same deal as with the Raw Burittos, I didn't want to reinvent the wheel so did my research and uncovered an absolute gem when I came across Sweet Simple Vegan. Easy to follow, simple, wholesome ingredient laden recipes created with expertise and love. These cinnamon scrolls were absolutely delish. I'm still really keen to try Laura's version, which seems to have a more doughy look and feel to them, but these 3-ingredient versions were surprisingly dense and gooey. Check out the recipe here and give it a go for yourself!
Blessings and so many dishes in the washing up pile of this happy green kitchen x