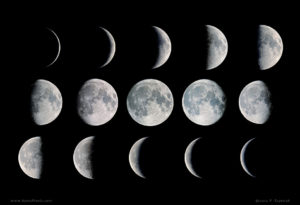 Last year I received a pendant from a close friend, given at a time when all was feeling very foreign and new and, dare I say, intimidating. It was a stunning piece by ANON.379, of a waxing crescent moon. Representing radical new changes, setting intentions and harnessing all that momentum – this pendant has seen me through the wild and incredible adventures of 2016 and has never left my neck. I fell in love with the concept of the moon cycles and its rhythms and representations within our lives. My year of living with the waxing crescent feels like its soon ending and onto the next stage. So how do we learn from the magic of the lunar cycles and use its timeless wisdom to guide our own journeys in life? Well strap yourselves in, oh divine readers, because we are going where no man (arguably) has gone before.
– NEW and WAXING CRESCENT MOONS –
This represents a time to commence new endeavours; start new projects or partnerships; create new routines and relish in the promise of fresh starts. Maximise the potency of this moon by using it as a prompt for you to set goals and intentions for month ahead.
– FIRST QUARTER MOON –
This is the 'action moon', the getting shit done moon. With the seeds planted of the new moon, now is the time to do something tangible and actionable to set your desires and intentions in motion. Get your hands dirty and make it happen.
– GIBBOUS MOON –
This is where the moon is moving from its half to full visability. This is a continuation of the action we saw in the first quarter but with amplified and accelerated forward momentum. This is kind of life the last flourish before harvest, where we start to see results and the consequences (positive or negative) of our actions thus far.
– FULL –
Moon magic at its finest. With the moon in its full form and visablity this is where it all comes together. Usually a time of heightened sensation, emotions and experiences. We can often start to cultivate everything that we have been working towards and see it start to manifest in its desired form. This is the 'look what I created' kind of vibe, harvest what you have sewn and bask in it.
– DISSEMINATING MOON –
The moon begins its cyclic journey from full to new, and with its slow wane we notice that our energies start to wane also and we are called to retreat and draw inwards. The perfect time for evaluation, reflection and re-establishing our desires. Take the lessons that you've learnt in the first half of the cycle and recalibrate. This is an opportunity to ensure that the path we have drawn, is truly ours and taking us in the direction that we want.
– THIRD QUARTER MOON –
This is the 'I'm just working on me right now' moon. This moon prompts us to use what we have learnt and reflected on with the waning energy of the past seven days and to start to action what needs to be changed. It may be that we rid ourselves of what is unnecessary or holding us back, amplify that which is assisting and helping us in our quest, or it may be the culmination of all the necessary changes to get us where we want to be. Spring clean of the mind and our environment. Maybe even time your garage sale with a third quarter moon with the perfect 'out with the old' energy of old mother moon to boost sales?
– BALSAMIC CRESCENT –
Our final cresent of moon before she retreats back to her new phase. This baby is about all things release. Anything that no longer serves you; a job, relationship, thought, behaviour, tangible item … let that shiz go. This is all about the final surrender to all that is holding you back and all that you wish to be rid of prior to the next new moon. Breathe, release and reboot.
Blessings and SO much lunar love that I can't even deal x
Images sourced here |