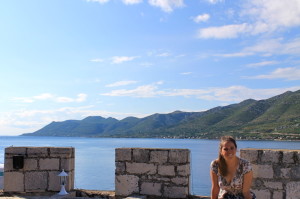 I am steering things a little left today and writing, not about food or spirituality or yoga, but about travel. A recently acquired love of mine. Prelude – I have always been terrified on travel due to my living in fear (big time) of things like plane crashes; terrorism; kidnapping; trafficking … you name it and I was scared of it. At the beginning of 2014 my passport had one stamp – Bali (albeit rather repetitively stamped because I love it, but one destination none the less). Fast forward to now where I have been fortunate enough to have travelled to ALL of the Hawaiian islands; Singapore; Italy; Croatia; Germany; Holland; France; Spain; Portugal; Ningaloo aaaand of course a few cheeky trips to Bali to round out the adventures. I have loved exploring where the locals go, and sort of forging my own way of doing things away from the touristy hot spots, and immersing myself in the respective cultures of whatever destination I have landed at. Recently (a little under a month ago) – I was in Barcelona at the end of an 8 week European exploration holiday.
We set off on May 9th and I was over-the-moon excited about the itinerary we had created and the adventures that awaited. I traveled with my boyfriend, Dave, and my parents joined us for the first few weeks of the trip!
// THE FLIGHT //
So this was, by a little margin, my longest commute to date. Hawaii took us on a 4.5 hour flight to Sydney and a 8.5hr flight to Oahu – so these legs were only slightly longer in comparison. I am a nervous flyer – seriously my crazy is up there with the paranoid passenger alongside Kristen Wiig on Bridesmaids – and this was the first obstacle that I needed to overcome on my journey. What helped me? Affirmations (I am safe and I will arrive at my destination healthy, happy and peacefully); Essential Oils (lavender drops rubbed into the soles of my feet); Crystals (an amethyst for relaxation and serenity; and clear crystal for amplification); and most importantly, Distractions (approximately a thousand books downloaded on the kindle; a movie playlist fit for a queen; people to wake up and annoy with mindless chatter).
I have a particularly sensitive little tummy when I'm earth bound, let alone when I am soaring with the clouds at 10,000ft. Up in the air, my tummy resembles those bags of complimentary peanuts … 'she's gonna blow!'. I puff up, wind gets trapped (sorry, but it do), I bloat, I cramp and am unable to use the toilet … Sorry if that's TMI, but I know that I'm not alone in this problem! Something that helped immensely was as simple as having control over my food. Sometimes, not always but rather unpredictably, dairy upsets my tummy. I've been vegetarian now (strictly) for just under a year (maybe a little more as I've been flexitarian on and off for the last 8 years), so that rules out meat. Luckily Emirates offers an incredibly accommodating menu for all diets (religious, medical or lifestyle) and it was so easy to get a strict Vego meal for all of my flights. This helped so so so much. It banished a lot of my post dairy bloating and it also made it easier for me to get into a 'regular' routine once we landed … all hail coffee too.
// THE ITINERARY //
It took a while to research, map out and plan the full eight weeks of our holiday – I used blogs, websites, tour organisations, books and documentaries to help navigate our trip. We each chose a few places that we wanted to go, that our trip to Europe just would not be the same without, and then compromised and collaborated from there. For me, Italy was a biggen'. I have studied Italian (on and off) all my life – I studied all the way up to year 12 for final year exams – and recently started again with the help of amazing language apps such as DuoLinguo. So adding Italy onto the list was a no brainer. Next, Paris. So idylic and really, we found to be, quite controversial with poled opinions of 'tres shit' vs 'tres great'. For me, little seven year old Emily, obsessed with Belle, Snow White, Alice and Ariel, would be mortified if her future self was close enough to visit DisneyLand and chose not to. So as not to disappoint my chubby little ghost of Christmas' past – I added Paris and Disney onto the itinerary. Dave's family (on both sides) hail from Croatia and he was so excited to return, visit with his extended family, and show his girlfriend and her parents the beautiful former home of his grandparents' and parents.  When in Croatia we couldn't not dabble in a cheeky Sail Croatia adventure, and this turned out to be one of the most incredible experiences of our lives, so this cemented its place on our ever growing itinerary. Portugal and Germany were added by David. Amsterdam was added by me. And Spain we sort of happily stumbled upon and, at the last minute, chose to explore.
Once we had our 'stop spots', we needed to coordinate commutes and connections between all of the countries and cities. I imitated a TopDeck cruise itinerary that I found whilst binging on their drool-worthy site, and found that it (to a close enough degree) mimicked exactly what we were hoping to see and in a relatively similar timeframe. We started in Rome, scooted across to Croatia, then up to Germany, through Holland, through to Paris, over to Portugal and across and through to Spain. If you're unfamiliar with European geography (hey o!) it sort of resembles an upside down U-shape – and that's how we do! In a word doc, I mapped out our loose itinerary, where and roughly what dates we were looking at, then started to hit up the TripAdvisor, Lonely Planet and every forum in between to see what travellers of the world recommended!
First tip – Never ever discount travel by bus. Ok, if you're ridiculously time poor, and flights are cheap and will save you 8 hours, by all means – fly. BUT if you have the luxury of not feeling too rushed, or are on a budget, or just want to experience the commute a little differently – please consider buying a bus ticket! The bus trips between countries were by FAR my favourite way to get lost in transit. Here's why: comfort is easily comparable to (if not surpasses) airline travel; you don't get nauseated or 'air sick'; you get regular stops to get out, stretch your legs and breathe fresh air; no turbulence; no risk of plunging to your early death (ok ok, that's the stressy flyer coming out); AND the scenery is seriously spectacular. In fact, it was on these trips that I saw landscapes that far outshone any that I came across in suburbia.
Second tip – Double check e'rrything if booking online. Dates, times, place of departure, number of passengers, how much luggage is permitted, check in times … seriously everything. I printed out all of our ticket itineraries and booking confirmations, highlighted important info, and read the details aloud to Dave whenever finalising a purchase. The moment you become blase or assume that you've done something right – is the moment that you're told that you're one month early for your train, your 50 Euro ticket is non refundable and non transferrable and the next available ticket is 185 Euro … each. Yes, that happened.
Third tip – Download podcasts, audiobooks or music to help pass the time. Or in my case, download a poop load of inspirational lectures, guided meditations and Beyonce playlists. Happiest transit ever. The incredible collection of guided meditations from The Yoga Emporium seriously changed my commutes indescribably – I arrived at my destinations calm, happy, balanced and so so so present//connected. When I wasn't "omm-ing" I read a whole lots of books and just day dreamed whilst watching the world pass me by. Bliss.
Fourth tip – Make time for rest. Use the commute to your advantage and plan ahead with rest times and any potential time zone changes. In Europe this didn't matter so much, the biggest time change was an hour or two, but from Barcelona to Perth – we crossed a million time zones and miraculously never got jet lagged. Be aware of your destinations' time zone and in the last few days, start to act accordingly. Eat and sleep and rest when is normal for your destinations' time. This saved me. Sure a little bus nap is fine, but if it's in the middle of the day and you've clocked in six hours of solid sleep, your nightly snooze (and subsequent day) may be affected.
Fifth tip – Specifics. We booked internal//local flights through Vueling and RyanAir. Small, regularly run and cost effective airlines. Things to be cautious of – place of departure (our Parisian airport was 150km from the city centre, not accessible via public transport and a very expensive cab fare away); luggage allowances (we literally had the maximum baggage allowance, before having to pay for excess, so be wary of these limitations to avoid getting lugged with a fine on check in!); itty bitty planes (don't expect much legroom or stretching space, they're cheap flights for a reason, but they're usually short so it's always worth it).
Pretty much all of our accommodation was via Airbnb – and I couldn't imagine booking any other way. It was seriously faultless. We got the best prices, best locations, best hosts, local flavour//experience and incredible connections//friendships out of it!
Our train and bus booking was country dependant but some of the companies we went through were – Berlin Linien Bus; Renfe; Bus Croatia and then internal connections through the cities' various metro services.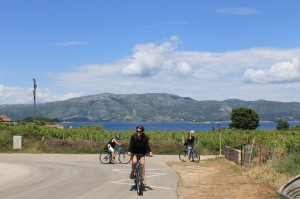 So that's that! The first entry in (if the length of today's post is any indication) what looks to be a sizey series on travel recs and 'what we did's.
Do you have any questions//queries//want advice on a certain area or topic? Please ask in the comments below and I will try to address them as best as I can.
The next post will be on Rome (one of my personal favourites from the whole trip) and what I ate, saw, did and loved whilst in this beautiful part of the world.
Blessings and oodles of frequent flyer miles x