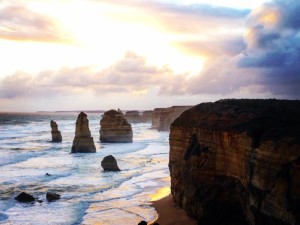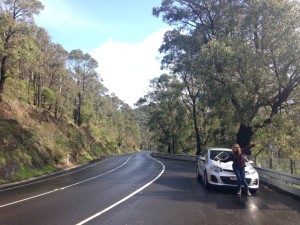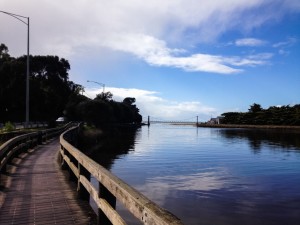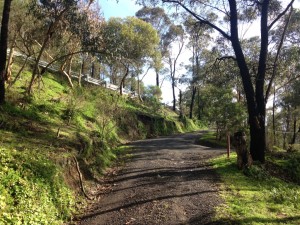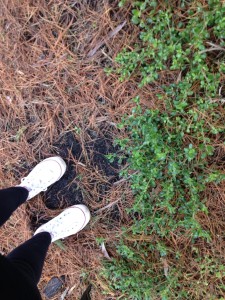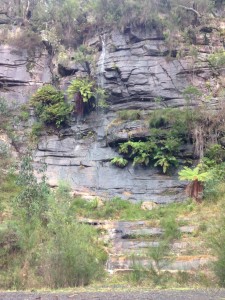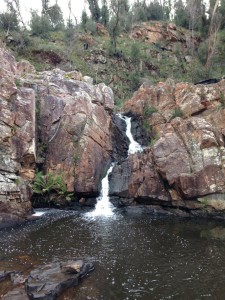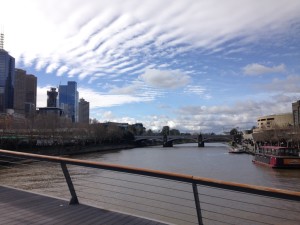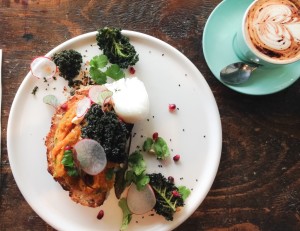 Until I work out a way to become a full time adventure seeker and experience collector, I'm going to have to settle for shorter, more local, backdoor (minds out of the gutter ...) kind of deals. Case in point – my very random, spontaneous, YOLO moment of booking a weekend away in Melbourne. Incentive number one – Natalie (who entered my world at approximately 7pm on March 29th this year in Rio and who I pretty much have been joined at the hip with since) would be there, exploring the east coast in her Australian adventure (part five of her gap 'yah' shenanigans); Incentive number two – little disruption to work, easily able to make it work with nothing more than a rejig of my Monday; Incentive number three – Great Ocean Road. This bad boy secured its place on my bucket list and vision board (after coming across an instagramed photo of the 12 Apostles) since I got back on Aussie soil in May. So, on Friday evening, I found myself ridin' solo in the departure lounge of Perth airport waiting for my ticket outie. I have fallen in love with the whole solo process of airport procession – journalling in the waiting chairs; cruising through the bookstores and cafes unnoticed and excitedly waiting for the next chapter to unfold. After a few days of feeling a little low and shitty – this brought me back.
3 hours later, I arrived at Melbourne airport. A little cramped after opting for a window seat, yet being that chick who never wants to bother anyone so holds in their wee until they are just about at bladder implosion levels. I caught the SkyBus (kudos Melbourne, a brilliant service!) to Southern Cross Station where I ran into the outstretched arms of one of my favourite humans. We dumped our bags at Nomads hostel and ventured out for one sneaky 1am drink, you know because it'd be rude not to catch up over wine after three weeks apart.
One restless sleep (cheers nympho bunkmates in the lower bed of bunk 3) later, we headed off to RedSpot where we had booked a sexy little Kia that we later named 'Sassy Kassie' on account of her invaluable addition to our gal powered trip. We plugged our destination into our iPhones and headed out of the city to navigate our way up over the West Gate Hwy to Great Ocean Road. Having never driven interstate, and Natalie never having really driven in Australia, we were both a little anxious about how exactly the trek would go. But the drive was phenomenal. Such well marked entries, exits, sites, information centres … it made the whole thing an absolute breeze. If anyone has said no to this experience based on the foreseeable challenges of car rental and navigation, I politely poo-poo on your reservations, just go.
We parked Sassy Kassie up at a few landmarks along the way. The first was the Urquhart Bluff – a beautiful coastal vantage point. We learnt a little about the history of Great Ocean Road – whose construction was actually planned at the end of the first World War as a means of offering work//employment to returned soldiers as, prior to its creation, only rough bush tracks connected the coastal towns//cities. We then cruised a little more, following the twists and turns of the frikkin beautiful Australian coastline (always + forever my favourite views) until we reached the famous Great Ocean Road archway and posed alongside approximately 1 million other tourists. Not really, but kind of.
Third stop was a few hours in, at the gorgeous, idyllic town of Lorne. We grabbed a much needed coffee from a teeny little cafe – seriously, pokey. And walked the coastline, sheltering occasionally from the sporadic bursts of rain, and snapping a few beautiful pictures along the walk. We ventured back out to the town's entrance where there was a smattering of gorgeous homewares and vintage stores, cafes and pizzerias and the most picturesque little walkway and bridge. When Natalie suggested a game of 'Pooh Sticks' (note – the /h/ is not conveyed aurally), I was a little hesitant but those blissful minutes spent running across the bridge and soaking up the last rays of the morning sun will forever be etched in my mind = simple, good fashioned, fun.
We clambered back into Sassy Kassie, who was certainly living up to her name and delivering all the feel good, rnb, 90s tunes, and continued on with Apollo Bay next in our sights. Apollo Bay is a beautiful town and is home to a handful of gorgeous little restaurants and cafes. We opted for a classy pub lunch, feat. red wine by the fire, at the Apollo Bay Hotel. Another quick walk to explore the coast, before the rain forced us back into Kassie and we settled in for the last stretch of the day. We were advised to try and get to 12 Apostles around sunset, 5:20pm, but wanted to factor in enough time for potential 'diversions' (cough, getting lost) and also to explore the 12 Apostles rather than just rock up bang on sunset. We arrived with five other large tour buses who obviously had the same idea. The Information Centre also hosts a little kiosk and cafe, which served very tempting hot beverages to cup in your hands on the nippy walk out to the site. We walked the km or so out and were rewarded with the most striking view. Seeing the 12 Apostles in real life was such a surreal moment for me – one of those 'I wanted this, I made it happen and now I get to experience it' kind of vibes. The limestone stacks were breathtaking against the raging seas and as the sun went down, the shoreline just illuminated and threw the most gorgeous reflections. Life is bliss, I tell ya.
After papping the Apostles from the infinite number of vantage points along the coast, we decided that our numb little faces needed warmth that only Sass Kass could provide. We initially had our eyes set on Hamilton or Halls Gap, two towns that are within the Grampian region, but after a minor set back in navigation and a bitch of a cold front slamming into us, we opted to stay in Warnnabool. Warnnabool is the largest city along Great Ocean Road and it truly is massive by comparison to the little stops along the way. We hostelworld-ed and booking.com-ed our little hearts out before finding a super deal at a local Motel that offered comfy beds, free breakfast, tea + coffee facilities and was a mere 8 min walk to a decent restaurant//bar. We signed up immediately, mostly persuaded by the in house tea//coffee options.
We awoke bright and early to hit the road, with about 3 hours to get to Grampians national park. We pulled over immediately as soon as, upon entering Halls Gap, their local football over was covered with kangaroos of all shapes and sizes. As an Aussie who has grown up on golf courses, I have seen enough kangas to last me a lifetime so wasn't too overwhelmed by it all … but my British mate lost her shit. She climbed across the wooden beams, into the oval, attempting to take photos with sleeping ones, bouncing ones, big ones, little ones, selfies … erryting. But her energy was infectious and soon enough we were both posing like kangaroos, yep, and getting acquainted with our hoppy friends.
We visited the information centre where a lovely guy told us about the Mackenzie Falls track that took about 3.5 hours and covered a few of the major sites in the region. You could drive direct to the falls and cover it in about 1.5hours return, but Nat and I opted to stop at 2-3 places on the way and included a 40 odd minute trail walk out to the Balconies too. Some of the places we were lucky enough to visit were: Reed Lookout, Boroka Lookout and the Balconies. All highly recommended. To get to the Balconies, you park up at Reed Lookout and take the 2km roundtrip along the marked trail path. It's an easy walk, with beautiful views along the way. The day we did this leg, it was freezing and as we hobbled along the path – I legit lost feeling in my hands, feet and face. Natalie's best advice that she has ever given me? Curl your hands into balls within your gloves like you don't have any fingers. Seriously 10/10 advice, worked a treat and I no longer need to confirm my fingers' existence with sight alone.
The Grampians are not to be missed, the drive along the ranges themselves are mighty impressive, but the various stops along its wake are just as stunning. The lookout points offer sweeping views of the entire canyon range and is just awe inspiring if you get it on a good day, ours was a little misty so we didn't get to soak up all of the wonder but 2/3 provided insane views. A few tips – the trail down to Mackenzie Falls gets pretty darn slippery in the wet and my cons definitely did not offer idillic footwear for such conditions. The trek back up from the falls though is the doozey – your quads will definitely feel the burn with these steep steps but totally doable, and enjoyable if you just pace yourself.
We grabbed a quick cuppa from Halls Gap for the journey 'home' to Melbourne and enjoyed countryside views and rolling green hills all the way back into the CBD. The sun began poking its little head out along the drive and treated us to the most insane rainbow! It was phenomenal. Natalie and I just kept staring, wondering how the hell the vibrant colours could brighten anymore, but somehow they did!
The two day whirlwind tour of the Great Ocean Road and Grampians was unforgettable. If you have more time, stretch your adventure out to three//four days but if you are hard pressed for time like these chickas were – a two day exploration will definitely suffice. We arrived back to Melbourne CBD, said our goodbyes and thank you's to Sassy Kassie and off we trotted to enjoy the final 20 hours of Melbourne life that I had up my sleeve.
Blessings, gratitude, canyons and waterfalls x