Ok, so it's Friday (and not Monday), but I'm having a kind of 'to hell with the rules' afternoon. So I come bearing gifts – a lovely recipe for you all to try this weekend! This pudding is an adapted version of one that I came across in Mimi Kirk's Raw Living recipe book.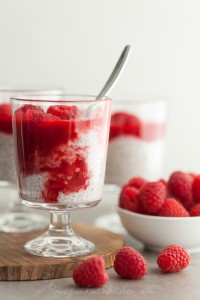 ROSEWATER CHIA PUDDING with organic berries 
2/3 cup chia seeds
2 cups almond mylk
1 Tbspn sweetener of choice (I used maple syrup)
2 tspns rosewater essence
1/2 tspn cinnamon
A few spoonfuls of mixed berries and//or cacao nibs to serve
Mix chia seeds and almond mylk until well combined. Let mixture sit for 10 minutes before stirring, Mimi advises using a fork to break up lumps (chia seeds are pesky buggers!). Allow the mixture to sit again for 15 minutes. Mix again and add sweetener, rosewater and cinnamon, stirring thouroughly to combine. Set in fridge overnight. Divide into two serving dishes in the morning and top with berries and/or cacao nibs! Delicious, nutritious and oh so healthy.
Blessings and berry stained lips x
Image temporarily from here - silly computer isn't letting me upload my own!