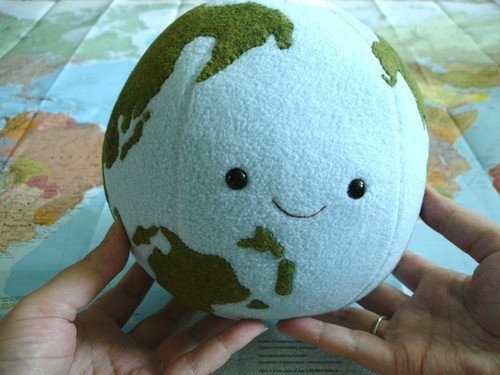 This is a good planet to live on huh? It's got pretty epic views, the people are [generally] amazing and fun; the things we get to do and experience are nek level … it'd be pretty nice if we were able to take care of it as best we can so that our kidlets and their kidlets could enjoy this playground too.
But … You're busy. I'm busy. We're all busy.
You don't need to sell the house, buy an eco friendly camper van that runs on recycled vegetable oil, dread your hair and start going by the name 'Moonbeam' to save the world. You can start small, making meaningful and purposeful changes where you can and then incorporating these into your every day life so that these mini practices become habits.
1 // Set Ecosia as your default home page. If you're anything like me, you google your way through most days. Anything from 'what's the difference between a barrister and a lawyer?' all the way to 'what is spanish for balls?' [yep, high to low brow in 5.3 seconds]. As long as you don't google doctor – this is a perfectly healthy, and brain growing habit that keeps us in the loop with world goings on and world knowledge. But why not use your inquisitive fingers to search via an engine that does the planet good. Ecosia plants trees with its ad revenues, keeps a little side tally on how many trees you've saved [feel good a go-go] and has a number of earth saving initiatives in its back pocket to support a healthier planet.
2 // Invest in a KeepCup or FrankGreen. Most people would be well aware that the loves of my life are a two way tie between Russell Brand and Kale [imagine THAT love child. Be still my burning loins!] but if I'm being honest, their top spot is being rivaled with ole mate Frank at the moment. Frank Green, a reusable coffee cup, is hands down the best reusable mug I've ever used. It's spill proof, aesthetically babin', and uber affordable that it ticks all the boxes and earns itself a STRONG endorsement from this chicka.
3 // Vote with your dollar. Supporting local businesses – the new little bistro on the corner, or the epic food van parked down the street – rather than pumping money into big corporations that don't always support the little guys or local suppliers [cough, Coles and Woolies and Maccie Dee's, cough] is a step in the right direction. Every time you open your wallet and fork out money for a product or service – you're giving it a little tick of endorsement. Don't believe in the inhumane treatment of animals – maybe skip that mass produced burger chain; don't like seeing local suppliers losing business – maybe head to independent grocers for your food shop and bypassing Coles; don't like living in a world where people are paid below minimum wage and exposed to incredibly dangerous and terrifying conditions – say 'hell no' to fast fashion retailers and say 'hey-o' to your local op shop or trade market. Be more savvy as to what you're saying 'yay' or 'nay' to when you pass over that hundred dollar bill [yo].
4 // A meat free meal? No, this isn't where I attempt to turn you all into mung bean chewing hippies. That ain't my style. But for all the meat eaters out there who are chompin' down on steaks and chicken, around the clock, I just wanted to share a few fast facts about how cutting down [not OUT] on meat just one or two meals a week can impact the health and happiness of you and the planet [and Babe] immensely. For every meal you consume that doesn't contain animal products – you save 1100 gallons of water; 45 pounds of grain; 30 square ft of forested land; 20lb carbon dioxide and one [coot little] animal!
5 // Educate yo'self. It isn't new news that the planet isn't in it's best or healthiest state at present. I believe [like hand over heart; believe more than anything else in the world] that knowledge is power; and education is empowering. There are a million and one resources at your fingertips that you can make the most of and start to learn a little more about this big old world around us and how best to advocate for it. My faves? For enviro – 1MillionWomen provide invaluable resources, articles and information about low impact living. For a deeper connection and more mindful existence – my main man Russell Brand has been killing it on his [relatively] new podcast Under the Skin. For a longer read on voting with your dollar – The Virtuous Consumer. For a quick insta and blog lurk – Be an UnFucker [yes – profanity and advocacy, the dream right?].
So that's it! 5 quick and easies that you can incorporate into your power hour at lunch. Saving the planet feels good, don't it?
Blessings and planeteering x
Image sourced here