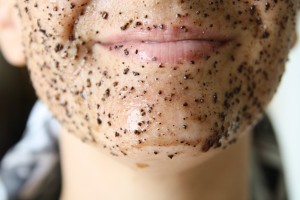 Ain't nothin' hotter on Instagram than 'selfies' and ain't nothin' a more popular pose than the semi naked coffee scrub look. The most popular//well known brand o' scrub is Frank body scrub – and they have an amazing (and hilarious) FAQ page on their website so I definitely recommend a read for those who wish to know more. But since you're here …
What is IN a coffee scrub?
Coffee scrubs tend to be as unique as a thumbprint. Each possess ingredients that are entirely exclusive to the particular brand//blend. But – as a general rule – coffee scrubs contain coffee (derr); an oil base (typically coconut); sea salt and essential oils. Coffee scrubs are a natural, nasty free, vegan alternative to some of the other scrubs on the markets and the BEST thing of all is we are easily able to make batches of this scrubalisicous concoction easily in our homes! Check out this hottie tottie post on the benefits and ingredients in coffee scrubs.
Why the devil do I put coffee ON me rather than IN me?
Coffee has a huge number of proven health and skincare benefits. Caffeine acts as a constrictor when applied topically and thus helps in the fight against inflammation, puffiness and swelling. Studies have shown that coffee can assist in the improvement of a variety of skin conditions such as acne, stretch marks, cellulite, psoriasis, rosasea and excema.
Where can I buy? Where can I buy?
Like I mentioned – Frank is the big boy on the market. One of my (local) faves is Freya's Coffee Scrub. I had the pleasure of meeting the brains behind this fab creation and I am ALL about supporting local businesses so, if you're a local yokal, please reach out and support this fab chicka.
How can I rock this bitty at home?
Savvy Naturalista has hooked you up. I LOVE this simple to use; DIY coffee scrub that can be made quickly and easily. Bag some up and gift it to your girlfriends for extra karmic love.
You will need 1 1/2 Cups coarse sea salt; 1 Cup coffee grounds (dried); 1 Cup carrier oil (SavvyNat recommends coconut) and 5-15 drops of essential oils. Simply mix the sea salt and coffee grounds until combined, then add ALL oils into the bowl and stir. Stir in an airtight jar or container.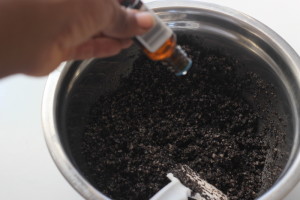 Blessings and coffee scented limbs x
Images sourced here and here