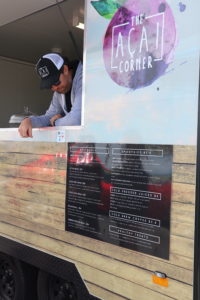 It seems all too fitting that I back up the latest post (all about trusting the universe and lifting your vibe to find your tribe) that I share with you today's post. It should be a simple review post – talking about what I ate, where I ate it and how good or shiz it was. But this is going to be epically more than just a simple review piece. Because The Acai Corner, the new food truck on the block, is more than just a mobile kitchen and business. These guys are proof in the (vegan) pudding examples of what soulful entrepreneurship is about and, in turn, what life is about. They are living and shining their truth, shaking off the shackles of the corporate world and following what lights them up, one Amazonian berry bowl at a time. So how did these radical movers and shakers cross paths with mine? Well it's a funny story.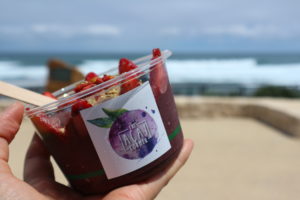 A few weeks back I was invited to a house warming for one of my most kindred friends. A pretty low key soiree but a little intimidating by the fact I knew near no one, except for the hosts of course. Over the day I had felt a little unwell, and I had resigned to the fact that rocking up to a party alone AND having an irritable tummy was probably just a little too much for this chicka. Then I thought 'um, I'm sorry but eff no'. All I wanted was to be around inspiring company, enjoy some vego paella (yes this was on offer, just one of the many incentives in my friendship with this babe) and soak up the energy of new beginnings and the palpable excitement of a new home. Within the first hour of being there, I was introduced to a couple who I 'had to meet because they've just moved down your way and are starting a food truck'. Disclaimer – I have always hated friendship setups; they so often feel fake and phoney and downright awkward. But, they kind of hooked me in at 'food truck'. Asking what sort of cuisine they'd be offering, Maddy (the XX chromosome half of the Acai Corner) asked if I'd ever heard of the amazonian 'Acai' berry. I nearly wee-ed my pants, confessing my total adoration. Turns out that Maddy and Andy (the XY portion of the duo) were travelling South America around the same time that I was (I know, soulmates, right?). Whilst traveling about and exploring the Amazon, they discovered acai and tried it in all its weird and wonderful forms. As its most commonly and very popularly enjoyed now, as a delicious blended acai bowl, all the way through to an au naturale room temperature beverage. Their new found love became their passion and an idea was born – bring this delightful food back to their home town, start a food truck and create a soul infused and heart centred business that celebrated the lifestyle that they loved.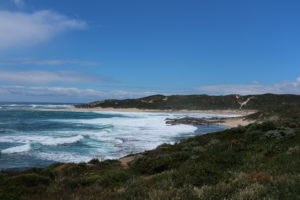 Enter … The Acai Corner. A funky, simple (in its most delicious and perfect sense of the word) food truck that you can find perched at Surfer's Point nearly erryday, from about 8ish to 11am. Here you can be dished up a delicious acai bowl (with a variety of epic toppings); cold pressed juice; cold brew coffee (wait, the obsession is on its way) and raw treats a-plenty.
EVERYTHING that they sell, they have either sourced or made from scratch. They work closely with Amazonian farmers and their acai is imported direct from the men and women they encountered in their travels. Every night, after a long day of serving the masses, they are in their kitchen making their own granola, almond milk, healthy treats and cold pressing their own juices so that literally EVERYTHING on offer is infused with conscience, love and good vibes. Heaven on wheels right?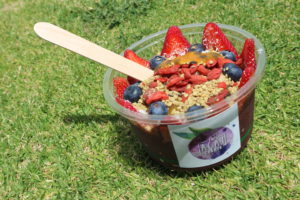 My first taste of the incredible months of labour, love, sweat and tears was nothing short of incredible. I opted for a Detox Bowl (acai blended with banana, mango and coconut water) topped with goji berries, chia seeds, coconut, cacao nibs, granola, fresh banana and strawberries. One of the best things about these guys is their mission to keep the berry as close to its natural (and therefore most powerful and benefiicial) state as possible. What does that mean? Zero added sugar. Literally nothing in the blend except acai (which actually boasts quite an earthy flavour) and fruit flesh // coconut water. The acai bowls that I have sampled in the past have often been amped up with sweeteners, sugars or guarana – which fast adds up as a pretty hefty dose of sugar. I was also lucky enough to sample the watermelon, strawberry, lime and mint juice (which, heads up, will be my staple juice come summer) and an incredible raw bounty bar.
I don't know whether it was the epic feed, the stunning outlook of mah home digs or being able to watch two of my new friends absolutely smashing it, living their truth and just GOING for it … but I was seriously riding the waves of the 'happy feels' all morning. And I have no doubt you will too – do yourself a favour and this summer pop out to Surfer's Point and support this incredible venture. Chances are I'll be there. You can track their movements via their Facebook or Instagram pages to see where they'll be and what they'll be serving up.
So here's to bowls of happy, divinely connected souls and to always living a life of passion.
Blessings and oh so much acai x