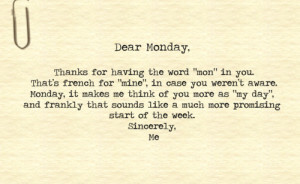 Oh hello there Monday. You snazzy little devil. Mondays are such brilliant days but often disguised as shitty little anticlimaxes and the antidote to a stellar weekend. Let's give Mondays their due credit and send 'em love. Spend some time setting your weekly goals; doing a wee bit of meal prep; thinking about how you want to feel this week. Use Mondays as the empowering and game-changing day that they are. And if all else fails, shake off your Monday blues by whipping up a batch of these delicious love bites.
Cacao and Coffee Love Bites
[Raw//Vegan]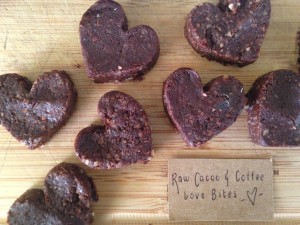 1 cup walnuts
1 cup almonds
2 Tbspns instant//ground coffee
2 cups//200g medjool dates (soaked and pitted)
1/2 cup cacao
Pinch of sea salt
Optional additions – 2  Tbspns organic dessicated coconut and//or 1 tspn vanilla extract
Process almonds and walnuts separately until ground (not 'mealy' but a light crumble). Add coffee, cacao and salt and pulse until combined. Add dates (I opt for one at a time) to food processor and a doughy texture should start to shine through. Press mixture into a baking paper//alfoil lined tray, flatten and spread evenly. Freeze overnight and serve as desired. My serving suggestions include – brownie squares; 'love bites' using a heart shaped cookie cutter OR for those of you who want to up the ante – top or sandwich with a scoop of raw cacoa mousse. So dang delish.
Blessings and dem mad coffee vibes x
________________________________________________________
Image sourced from here