If Summer is the season for beaches and 'kinis, then Winter in the season for snuggling and snacking. Has anyone else felt that slight lull in energy as the cold sets in, and noticed the tendency to crave tummy warming, satisfying foods. Well yours truly has and in a bid to not resemble the Michelin man come September, I have started to brainstorm and prep a few plant based, nutritious and delicious snacks that can be enjoyed sans guilt and sans post consumption dimple butt.
Today's little treat is oh so simple and ridiculously yum. Like, it tastes very very naughty, kind of yum. The gooey richness and caramely flavour of the medjool date, contrasted with the crunch of the almonds make this a texturally and flavourally (yes – I made it up – what of it?) satisfying little bitty. I serve mine with a cup o' tea, a cosy chair and a good book – you are welcome.
With these bad boys, you want to aim for only one or two per serve as they do contain higher amounts of simple sugars so, like anything, moderation is key. BUT they also possess a huge range of nutrients, vitamins and minerals that make them a top choice. They possess Tannins – an antioxidant that boasts such properties as anti-infective, anti-inflammatory and anti-haemmoraghic! Dates are also an excellent source of iron, potassium, calcium, manganese, copper and magnesium. So, eat up and enjoy darlings!
Tell Your Date to 'Get Stuffed' – Stuffed Dates Worthy of a Snog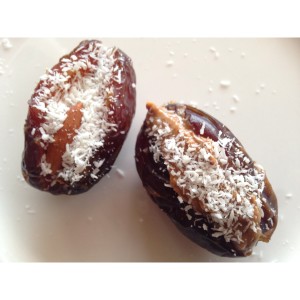 Medjool dates
1/2 Tbspn almond butter per date OR 2 whole almonds per date
Organic desiccated coconut
This couldn't be easier. Remove the pip from your date (oh this sounds raunchy …) and cut longways down the middle. Stuff your date with either almond butter (opt for 100% organic almond butter or, better yet, make it yourself!) and sprinkle with desiccated coconut – using your hands to mould the dates closed. Other options for 'stuffings' are – crushed walnuts and cinnamon; raw chocolate paste or a scoop of tahini topped with cacao nibs.
How would you like to 'stuff your date'? Leave your favourite stuffings in the comment below, and let's keep it PG huh? 😉
Blessings and velvetty datey goodness x