Welcome back to this side of the weekend my darlings! Hope you all had a fabulous weekend and are feeling rejuvenated and happy and smiley and ready to work your butts off for another week.
After lots of recent experimenting in my small but humble kitchen, I am at a bit of a loss as to which recipe I shall share with you all today! I'm trying to evenly spread the range of meal types that I post so after deciding to adopt a sweet-savoury-sweet-savoury kind of sequence that brings us to the best kind of day – a sweets day!
Today I decided to share with you my most recent fave on the go edible – the raw goji ball. Holy moley these are incredible, both in taste and nutritional value. They boast antioxidant benefits of the gojis, essential fatty acids and omega 3s of the walnuts and linseeds, essential amino acids and even more antioxidants of the raw cacao and a few little adages along the way!
Raw Goji Balls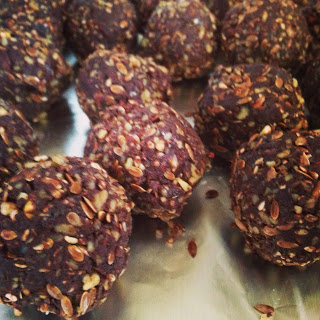 ¼ cup coconut (I use chips but shredded or desiccated would work)
Optional 1 tspn flaxseed oil
And now for the easy part – add all ingredients to your food processor and BLITZ BABY BLITZ! Roll into balls and keep in the fridge or freezer for an easy to go snack. Too easy my loves! Share the love and bring some in for work morning tea and showcase just how amazing raw and nutritious snacks/desserts can be!

Blessings from my goji and cacao stained smile x