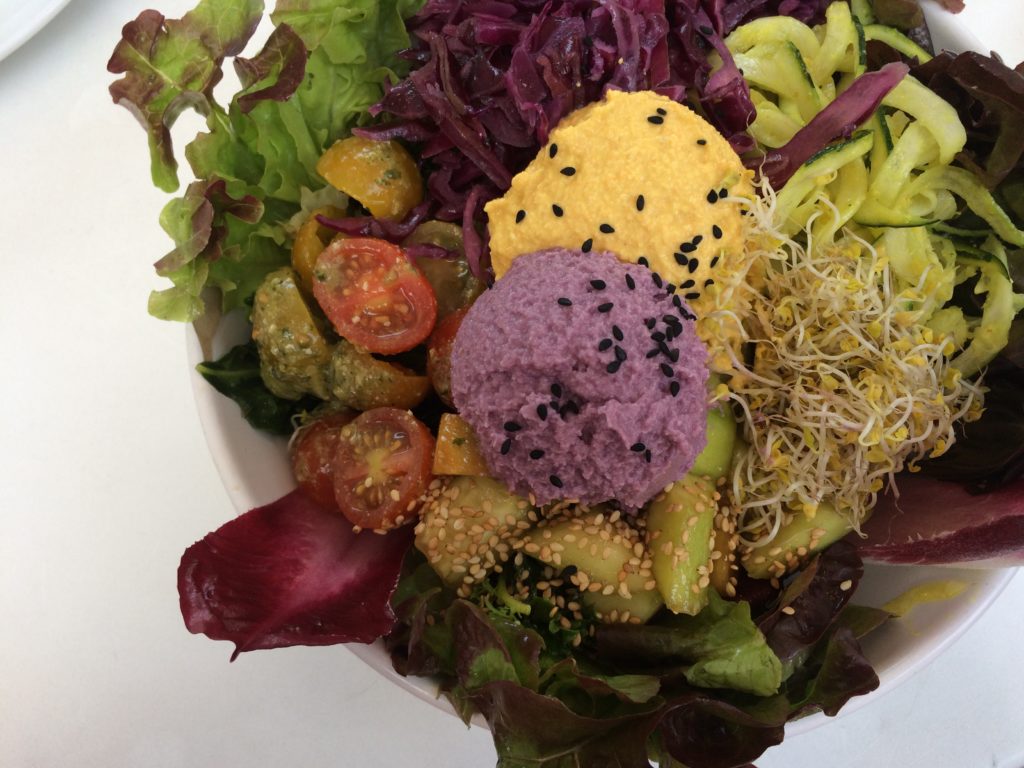 // London //
The "fast food" hits – Leon and Pret. Organic and dairy free porridge in the morning, wraps and salads for lunch, delicious coconut milk coffees. These quick stop shops were a lifesaver for the days where I wanted to prioritise walking and exploring on foot, and the days where my travel budget was screaming "oh dear god – stop". Available on almost every single street, seriously, of central and surrounding London – their accessibility, affordability, quality and ethos were a God send for this vego señorita.
Tibits – Only just opening the week of my arrival, cheers universe, this place is a vegans answer to a sort of all-you-can-eat buffet. Located in beautiful Southbank and set up with a funky and chic interior, this is a weigh and pay dining experience with a plethora of vegan and special diet options. Each dish is labeled with its alleged list and diet base [nuts, dairy, eggs, soy etc] and offers approximately 30 dishes to choose from! Opening week offered 50% off all plates, so for next to nothing I scored an amazing vege feast that least my body and soul frikkin buzzing. Check them out and give these new guys some love.
Mildreds – Holy tolitoes. A last minute addition to the list, with my final London dinner shared here, it almost didn't make it. This totally [refreshingly] non self proclaiming vegetarian restaurant is located just close to Piccadilly Circus and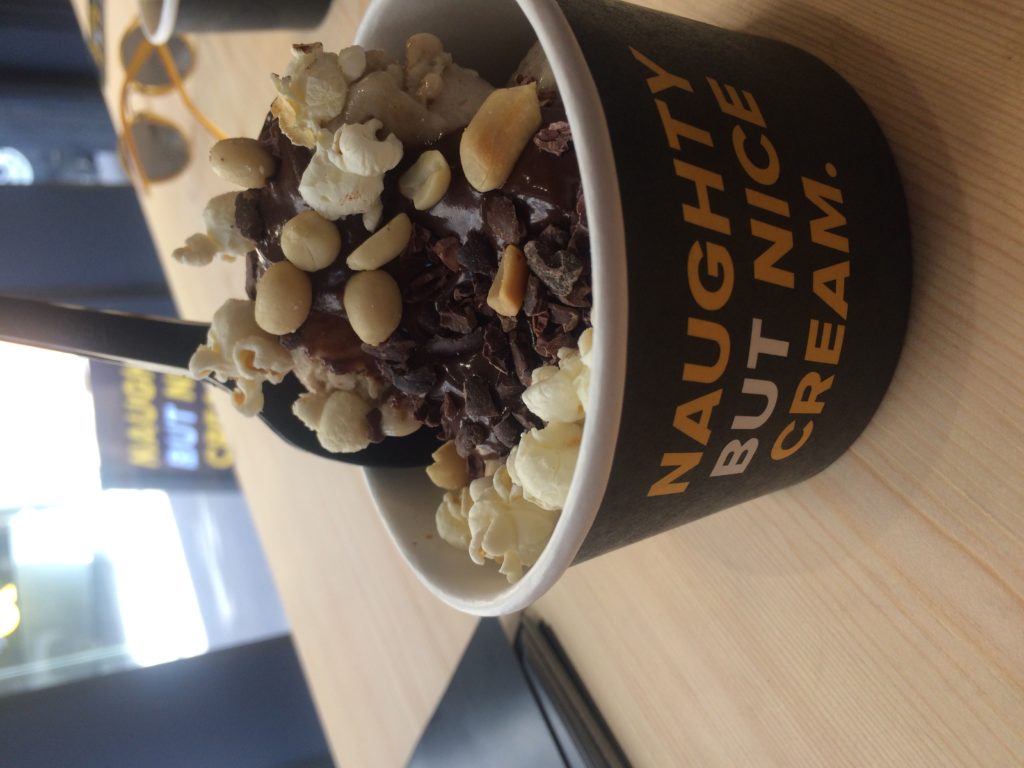 NanaBar – I adore banana nice cream – one of the most delicious "treats" in my bag of tricks. So in learning of a newly opened banana ice cream cafe, I was there faster than you can say "double scoop plez". Each day they offer a different flavour combo – ranging from rocky road to peanut butter to strawberry cheesecake. I rocked up – ever so timely – on peanut butter day. Holy sheet – amazing. The founder and co founder were both hanging about, snapping photos and being so lovely and attentive to their customers. I had a good old chat with the co founder, and listened eagerly as she shared their passion and story. Another new venture – opening in July and running til Sept 23rd [pending their, inevitable, success and community support] these guys are the new kids on the block. Do yourself, and me, a favour and head on down to support the work of this super duo. Trust me – you'll emerge with the happiest of tummies and hearts.
// BATH //
On my day trip to Bath, unsure of what to expect from this country town, I was a little anxious about the food options that would be available. I needn't have feared – within 10 minutes on leaving the station, I came across Green Rocket – an epic health cafe just off the main drag. They offer plant based juices, meals, snacks, desserts – as well as healthy lacto-ovo-vegetarian dishes too! Kind of steep in price, when you add up the cost of a mixed leaf salad and juice, BUT exceptional quality of produce and absolutely delicious.
During a walking tour of the city, I also came across the famed Fudge Factory that offered free tasting and live demonstrations of their production. I was absolutely delighted to find out that they offer a dairy free version – using coconut milk instead – to make a dark chocolate fudge. The lovely guy explained the process and how creating a vegan fudge differs slightly to a generic fudge, and even offered me a little sampler. Bottom line? Even on the outskirts of the big bad city, you have options a plenty.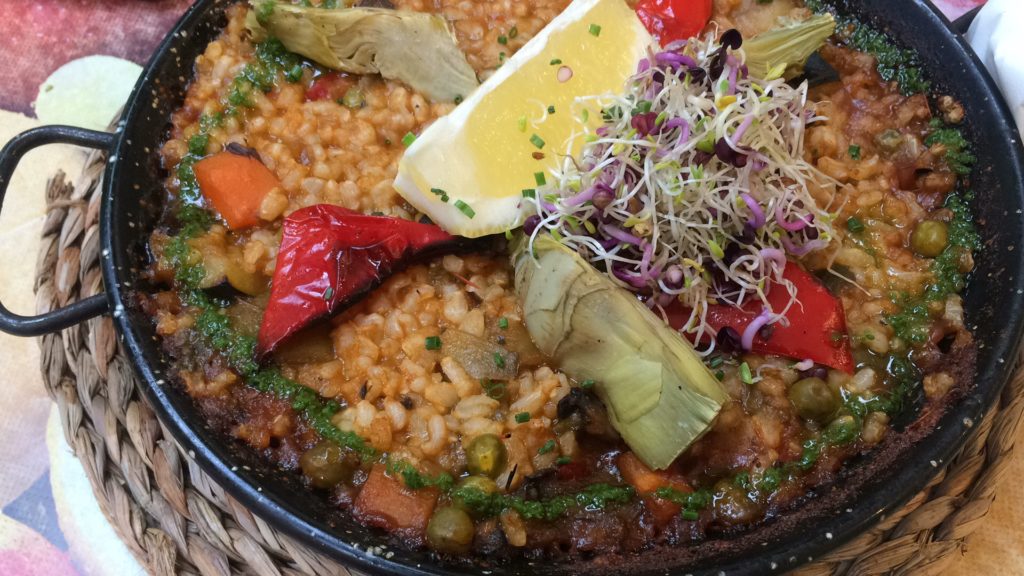 That's it for this [vegan tortilla] wrap up of te best vego spots in and around London Town. If you, like moi, are a plant based little foodie [but a foodie none the less, and don't want to lose out on epic food] never fear, London got your back girl!
Stay tuned and check in again for an upcoming post on European eats as we eat other selves silly around Italy, France and Spain.
Blessings and so GD much food x