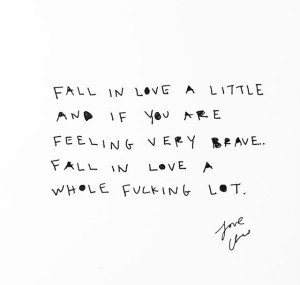 1 // Tiny phone text. For those of you who have been privy to my handwriting – you will know that I write like a typewriter. A typewriter for ants. It's minuscule. Go into your iPhone display settings and set it to TEENY TINY mode. My heart is so happy.
2 // Coffee. My love of coffee has grown exponentially in the past month. I adore it from first to final sip, and every succulent mouthful in between.
3 // Scary, big ass, wild and wonderful dreams. Because if it doesn't leave you terrified and bewildered and short of breath – it ain't worth it.
4 // Electric-mother-flippin-blankets.
5 // X training. Before you sharpen your pitch forks and attack the weirdo – hear me out. This form of training gets you sweaty, allows you to mingle with a whole bunch of likeminded people AND promises you an ass that won't quit. Um, can I sign up twice?
6 // Kale. Put down the dang pitchforks! Actually, hand 'em over. I'm going to use them to eat the biggest bowl of kale known to man. My love for this super nutritious and down right delicious vegetable has grown almost as much as my coffee addiction. Almost.
7 // Dogs. I would happily stay single forever if it meant I could adopt 20 dogs for company. Gimme gimme gimme.
8 // Lonely Planet books. Because it's 10:30pm, I can't sleep because my mind is already exploring a majillion other places and countries and LP's guides were glaring at me from my shelf. And now they on my lap – cruisin' for a bruisin'. Slash, about to be devoured and dogeared.
9 // Red wine. In winter. In front of a fire. Whilst wearing a biiiiig jumper. Yes.
10 // People. There are approximately 158 people who are currently taking up residence in mah heart cave. Old and new. You are tucked in there, snugly and safely and I cannot even begin to tell you how loved and appreciated you truly are. My desire to connect with people and to live a life that's full to the brim with relationships in all their delicious forms is actually indescribable at the minute. If you're in my life, let's hang. I will always say yes (to the hanging out part – mind out of the gutters boys) and I will soak up and savour every minute that we are sharin' stories and makin' memories. Hit me up.
Blessings and a poopload of blessings – so many that I've actually lost count x