You know it's end of the festive season when your fridge is an eclectic mix of dips, fruits, vegetables, half opened cartons of milk (and bottles of wine) … I'm a firm believer in and advocate for a 'no waste' approach to food production and maintenance, so rather than chucking out I opted to 'chuck it in' and made a delicious green pasta dish that I'm dying to share with you!
'No Waste' Green Pasta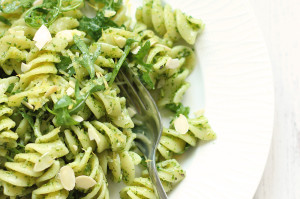 Pasta of choice (I opt for delicious buckwheat or rice pasta!)
Jar of basil pesto sauce
1 x eggplant
Greens of choice (I had spinach//rocket//kale but use whatever you've got!)
Steam eggplant for 5 minutes to soften, remove, set aside. Cook pasta according to packet directions, drain and put aside. Gently stir through pesto sauce, cooked eggplant and leafy greens. Serve immediately with black pepper and pink himalayan salt. Derish and super sustainable!
________________________________________________________
Blessings and green stained smiles x
Image sourced | here