// DAY THREE //
Ah, lazy Rome mornings, these are what dreams are truly made of. We nominated it to be 'a day of no plans' and solely a day of exploration and path finding. Commencing it, once again, with a beautiful run along the Tiber, we took in the smells and sights of Rome on foot. Mum, dad and I stopped in at a little café on the main strip alongside the Tiber. I, still a little too exhausted from the jog, couldn't fathom the thought of a hot coffee – so opted for a freshly squeezed OJ. The first of many (read: millions) in Europe.
On our way back we found our way, through the everwinding maze of cobblestone streets, to Campo de Fiori. It is one of the main squares in Rome, its perimeter made up of restaurant after restaurant, but by day it serves as an open air fruit and vegetable market. Incredible produce, all of it fresh and local. My sort of place!
We headed towards one of Romes' 'must sees' – Fontana di Trevi (the Trevi Fountain) – which was completed in 1762. The tradition goes that you throw a coin over your left shoulder, into the fountain, and that will see you one day return to Rome. If I had a million coins, I would throw them all in. There's no way that I'm risking not returning to this beautiful place before my time on earth is up! It's estimated that approximately 3000 Euros are thrown into the fountain every single day. These coins are used for city projects (like subsidising supermarkets for the needy) which makes me adore this tradition even more. Unfortunately, for this first-time-to-Rome Aussie, the Trevi Fountain was in the midst of renovations and so we had to do a make shift coin throw. I hope the magic still works …
Next up, and just around the corner, the Spanish Steps. 135 steps later, and this lovely Roman site leads you up to an incredible viewpoint and stunning church (Trinita dei Monti). We spent some time people watching, viewpoint gazing and photo taking before splitting up into girls and boys. I took mama out for an iced coffee and crème tart as a two day belated Mothers' Day gift. It was magical (and delicious).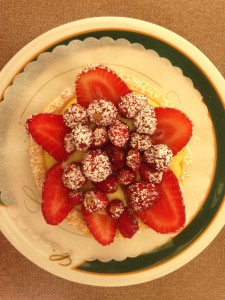 // DAY FOUR //
We decided 'when in Rome', to jump the border to another country. That 'country' being the Vatican City (was anyone else floored to learn it is its own country?!). Of course, only we would decide to head to the Vatican on a Wednesday …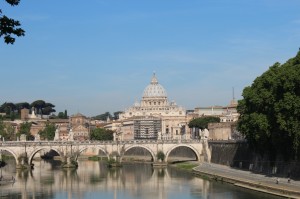 First tip – Book ahead of time to avoid cues – We seriously bypassed a cue about 1000 people deep by pre ordering tickets. I'm not kidding. Even the Pope is hip enough to know that online ticket sales and barcode scanning from mobile devices is where it's at. Tickets are 16 Euro (plus booking fees) and extra for audio guide which brings me to the second tip.
Second tip – Get the audioguide (but just rent one) – We weren't sure whether to get one each or to do just one. I was probably the most keen to learn about the religious and political history during our visit – so we decided that I would have the audioguide and relay it back to Dave. BUT, it doesn't come with headphones (more like a hand held, speaker device) so you can share and both listen.  Save-a-da-money!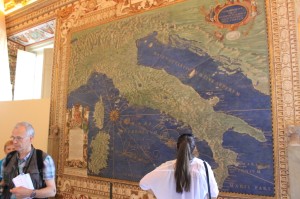 Third tip – DO NOT GO ON A WEDNESDAY if you're solely after a Vatican and Sistine Chapel tour – When we arrived, early Wednesday morning, it was bleeping mahem. Nonnas, school kids, business men, nonnos, freakin' every man and his carne (dog) were there. Turns out, it was the morning of the Pope's public address, which happens erry week. Missed that memo. Seriously, it offers an amazing opportunity to see the Pope scoot past in his pope-mobile (mum got excitingly close to il Papa) but if you're time poor and just in it for the museum … Choose another day.
Fourth tip – Wear appropriate and respectful clothing – Like all of the churches and religious sites in Rome, there's a dress code to be adhered to. This includes no bare shoulders, no shorts, closed in shoes (I think) and no cleavage//excess skin showing. Dress like a nonna and you'll be ok – better to be safe than sorry.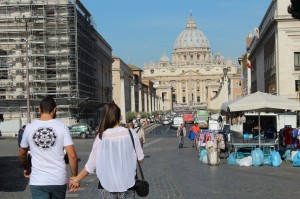 I adored every minute of the Vatican tour (although was devastated to find that the Ancient Egyptian wing was closed for renovations … story of my Italian life). The paintings, sculptures and structures were just phenomenal. Every hallway, room, corner of the museum was adorned in some sort of art or ancient relic.
The most incredibly powerful feature of the tour was, obviously, the Sistine Chapel. The iconic artwork, the detail, the layout, the colour, the story … phenomenal. I might actually add on a fifth tip in regards to this baby.
Fifth Tip – DON'T be that guy – The guy who, when everyone else is quietly and respectfully paying reverence to the incredible masterpiece above their heads, or the religious affiliations that the museum stirs in them, or when the PA announces 'silencio per favore' …. PLEASE guy, just silencio. And please don't take photos of the roof using your iPads reverse camera feature. The rules still apply to you. And you're being a dick.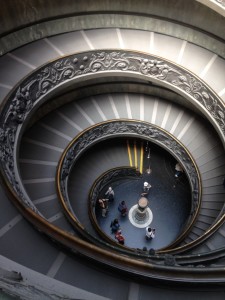 Dinner was a majestic three course shared meal at La Scalleta degli Artisti (a restaurant that, understandably now, came highly recommended). Our waiter was so beautifully attentive (ahem and a Roman God in a previous life, I'm sure of it), we were lucky enough to meet with the chef (who scarily resembled Bill Murray) and enjoyed one of the best meals of the whole trip. Which brings me to my final tip for this post.
Sixth Tip – Calories don't count in Rome – Everything is home made and infused with so much love, that the calories are somehow banished from every morsel of food. Magic hey! Oh and please try 'Pasta alla Norma' whilst in Rome – I miss it and I love it.
So sums up our adventures in Roma. A magical city, rich in history, offering incredible sites and food and adventures.
What are your favourite Roman memories?
Blessings and amore x