This is, quite possibly, my most delayed post to date. But I wanted the words to flow when I wrote this post, I wanted to sit down uninterrupted and just … write.
So now is the time my darling kidlets. I am proud to introduce to you a brand new juice company on the market, Raw Bliss Cleanse. This Margaret River based company was founded earlier this year (and run by) Leearne. This NZ born, gypsy soul started the company after discovering the revitalising, health boosting benefits of cold pressed juices.
Raw Bliss offers a number of different options for those people looking for a cleanse. These are beautifully categorised into 'mind', 'body' and 'soul' cleanses and can be purchased in orders of one, two and three days. At the moment, Raw Bliss is only offering their 'mind' cleanses and this is the beautiful juicy goodness that I was lucky enough to sample.
Being a bit of a juice connoisseur, I knew the drill. Nuttin' but juices, water and herbal teas for three days. The focus on nourishment and enrichment rather than deprivation or starvation. These juices are overflowing with calories, enzymes and phytonutrients. There is no 'lacking' on these cleanses, there is only giving. Giving the cells oodles of (accessible) goodness and acting like a direct injection of the good stuff. The cleanse process also provides much needed rest for the digestive system. Halleluja!
Raw Bliss also provide a thorough set of 'cleanse guidelines'. These evidence based cleansing guides educate the newbie cleansers (and even seasoned juicers like me learnt something new!) and inspire the most optimal benefits from the cleanse.
Without further ado, here is my review of the fabulous Mind Cleanse by Raw Bliss Cleanse.

+ JUICE ONE : Spicy Sunrise
Zing-a-ling! This juice was incredibly 'awakening' and refreshing – the perfect morning juice. There was a very notable hit of cayenne pepper, a flavour that I'm particularly sensitive to, and it tended to linger in the back of my throat. It was very aptly named the 'Spicy Sunrise'!
+ JUICE TWO : Purple Haze
This one was my favourite. And not just because the 'purple haze' is the term given to the Fremantle FC army, although I'm not going to pretend that wasn't an influencing factor. But this juice was absolutely and positively delicious. It left me BUZZING. It had an invigorating hit of apple and ginger. Derish.
+ JUICE THREE : Popeye
This light and balanced juice was full of flavour. I actually found the flavoured blend was quite filling and gave my tummy a bit of fillin' to round out the morning. Named 'Popeye' for its spinach base – it is the stereotypical green juice – teeming with phytonutrients, vitamins and minerals.
+ JUICE FOUR : Cucumber Cooler
This baby was so freakin' refreshing. It was hydrating (on account of the cewie) and delicious (on account of the apple) and the perfect afternoon perk. The timing of this juice was sublime, recommended to be consumed exactly at the time of day where we usually shlump.
+ JUICE FIVE : Sundowner
This juice was incredibly hearty and earthing. It was a very grounding juice. Full of sweetness, fibre and nutrition it fills your belly and soothes your cravings. In a word, it feels nourishing. Beautiful rhobust flavours of beetroot and tumeric – kaboom.
+ 'JUICE' SIX : Sweet Dreams
I can't put into words just how magical a 'mylk' based drink is at the end of a day of juices. It's like rays of sunshine poking through a wet day o' clouds. It's the first flower bloomin' in spring. It's like a big, rad, freakin' hug. This blend of hazelnuts and cacao met the brief like no other. It outstretched its arms and cuddled my tummy. Mylk drinks like this seem so decadent and the fact that they are plant based, cruelty free, easy to digest jars of delight are just icing on the (delicious sugar free, dairy free, gluten free) cake.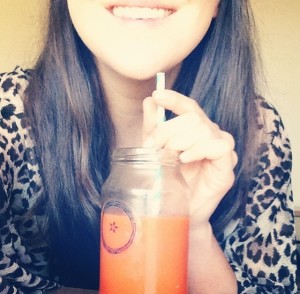 This, lovingly prepared, hand delivered, gorgeously presented juice cleanse was an absolute delight and one that I will be scheduling on a regular basis. Although in the afternoons I felt a little shleepy, particularly on day one as I detoxed to the shiznit, I still managed to have oodles of energy and was able to complete daily yoga, daily walks with my pup and a few intense cardio sessions. Boom-chucka-lucka!
If you live in the Dunsborough//Margaret River//South West area – do yourself a favour and support this up-and-coming local business. Your cells will thank you, your skin will glow and your body will thrive.
Blessings and juice squeezin's x