Today I'm-a get straight to the point and deliver you a delish recipe pronto. This is, of course, another dish from the insanely good book by Robin Robertson entitled Vegan Planet. It's dairy, meat and additive free and absolutely derish.
Pumpkin Penne with Kale Pesto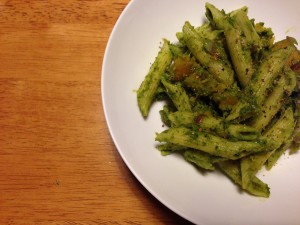 1/2 butternut pumpkin (cut in to 1inch diced pieces)
500g packet dry penne (opt for wholemeal or wheat free depending on your personal preference)
2 cups kale leaves
2 Tbspns olive oil
2Tbspns lemon juice
1/4 cup walnuts
2 garlic cloves (minced)
1 small red onion (finely diced)
Salt, pepper and chilli to taste.
Bring pot of salted water of boil and add the penne, stirring to prevent pasta tubes from sticking together! Once water has returned to the boil, add the pumpkin to the penne and cook until both are tender.
While the pasta and pumpkin are cooking away, make your pesto. Add kale, 1 Tbspn oil, lemon juice, walnuts and garlic to a food processor and blend until a paste forms.
Get 1/2 cup water from the pasta/pumpkin cooking broth and set aside.
Add remainder of olive oil to small skillet and, once heated, add the red onion. Cook on low heat for approximately 5 minutes or until translucent and cooked through. Add the kale paste and the 1/2 cup of broth and stir until combined.
Drain pumpkin/penne once cooked and add the pesto, stirring continuously to evenly spread the delicious sauce.
Add salt, pepper and chilli to taste. Absolutely YUM!
Blessings and green, kale stained, smiles x