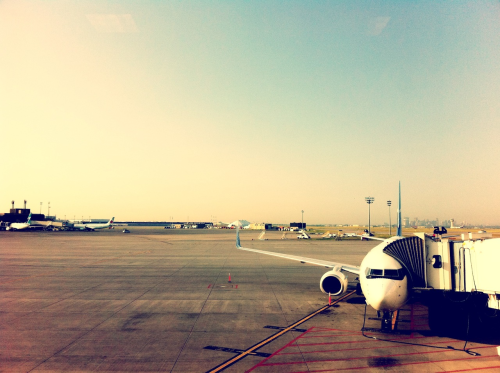 I'm a pretty simple little human. Remarkably flawed in a number of areas. And whilst I may not know fashion, or grace or poise … if there is anything that I know in life it's probably within the realm of thrift and shortcuts; and travel. So today's post is dedicated to my two loves – cutting corners and simplifying life; and heading abroad.
TECHNOLOGY TRAVEL HACKS
1 // Powering up hacks. An oldie but an oh-so-goodie. Putting your phone on flight mode – saves battery [duh] and speeds charging time [ooo]. Perfect for between flight charges or pre-nights out.
2 // Incompatible hacks. Has your hotel charging port ever flat out refused yoru adaptor that you were SURE was for that specific country and you have to have the old 'it's not you, it's me' talk? Well, if your charging adaptor doesn't work, don't panic! Most rooms within hotels or airbnbs will come with access to a television. AND a lot of Smart TVs have usb ports. Whatcha probably didn't realise is that you can use these ports to charge devices! This hack saved me during a 12 hour layover in Sao Paolo last year. Simply plug the charger into the usb port [usually located at the side of the TV] and whammmmy. Note// TV must be on. So use the opportunity to catch up on Spanish Days' of our Lives [diaz dos nostre vibre?]. I need to get back into to my language lessons ….
3 // They see me roamin', they hatin'. Suss out your network's roaming options. I myself am with Vodafone, and as many headaches as they occasionally cause me in Australia, they more than make up for it when I'm overseas. They offer an incredible $5AUD a day for roaming services [can opt in and out, you don't have to use every day] to access your plan, its call, text and data inclusions, as you would back home. Now if you're travelling in a group – even better. You can split costs or rotate each day by offering each device up as a daily 'hotspot' – all the access, and $5 split ten ways. Win, win.
4 // App Hacks. The number of apps in the market today that make our daily grind a little easier are endless. And when you refine this to 'travel' parameters – it gets even more exciting. One in particular that I fell swiftly and irrevocably in love with, using nearly every single day of my travels, was CityMapper. I won't do the full spiel here, I'm keeping it short and sweet today. Basically this is your 'how to commute' guide – giving you train, bus, on foot, bike and long distance options for how to get to any destination in your city. You can even continue to use the app offline [yasss, so helpful] but make sure you've loaded and commenced your journey before you leave wifi!
5 // A word on photos. I'm a self confessed 'grammer, absolutely. And I get that with travel and exploration and immersion within incredible sights can make for many a pretty amazing photo opp. But someone said something whilst I was recently away, and it really resonated with me. Take photos with people in them. Capture moments and experiences and bouts of imperfect laughter … don't stress if you can't capture that perfect scenic shot. Google has a whole stack o' images that you can show people when you get back and go 'THAT's where I was!' but they don't have photos of you, or your mates, or that sexy little Italian stallion that you were lurkin' at Trevi Fountain. AND side note, leave the camera at home every now and again. Google will have you covered if you want to share what you saw – but our eyes see better than any camera so just be. Just be there.
Blessings and hackeroonies x