---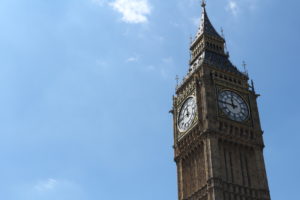 I didn't know how I would vibe with London – im a self admistted (newly forged) country girl. Totally sensitive to the frenetic pace and busyness that big cities often attract or induce. So I was quite cautious that putting aside 10 days to explore London was a total lapse of judgment and is soon be kicking myself. Now? I'm kicking myself for not buying a one way ticket, packing up all my stuff and chasing the London life dream like so many of my brave friends have done before. This city is incredible – and not for the reasons that I initially assumed I might be besotted by it – but for its subtleties.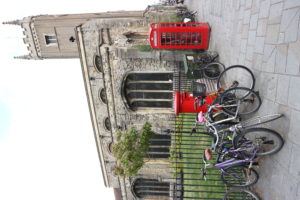 I was struck with the inspiration for this post as I walked through the underpass near the Shard – and saw a poster from a prevalent organisation wishing the people of London a happy "pride" celebration. Now we Aussies definitely have a similar individual level of support and celebration of pride and diversity – but in terms of their larger scale corporate support, I was blown away. This in itself is a snapshot into why I love this city. It's appreciation, acceptance and celebration of diversity – not just in regards to sexual orientation but all aspects of our human spectrum that are so widely acknowledged. On any given day – sitting on the tube – there are people of all colours, heights, sizes, backgrounds and speaking all sorts of languages and with a whole plethora of accents. The word nerd in me absolutely LOVES it [i have even picked up on a few bonus slangs that I'll be importing to Aus land with me]. So in terms of diversity and one love and acceptance and celebration – London you are absolutely killing it, my friend.
Reason number two has been, understandably, the ease of plant base eating here. Ireland was a tough one to navigate – vegetarian options a plenty but often subbing meat with dairy and eggs. London is insane. Every single corner is dotted with cafes and corner stores that cater to vegan dining like you wouldn't believe. Pop up ventures and new street food enterprises are errywhrre – specialising in epic #whatveganseat worthy foods. I'm actually going to do a separate post on vegan eats in a separate post because a) many of you may not care to read on here and b) to do the cafes justice, they deserve their own post. But in a nutshell – the demand, and supply for vegetarian foods and healthy plant based options – are so representative of the progressive mindset of London peeps.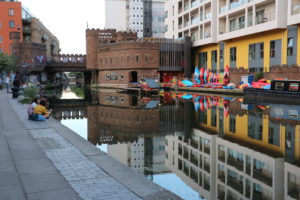 The transport system. Holy efficiency batman. London, as I'm sure 99% of you are aware, is freakin huge. Yet the ability to navigate and explore this massive metropolis is just insane, even for a novice little newbie like me! The tube is expensive and has probably chewed up a little more of my "pimms intended" budget – but so worth it when you're considering just how precious your time in a new place is, and how you can maximise your time to explore and actually see things that excite you. If I could give you one piece of advice – from hopeless tourist to, I'm sure, less hopeless but equally as overwhelmed tourist – download the "City Mapper" app before heading over. This bad boy absolutely saved me. I programmed my home base and with a click of the "get me home" button, it completely programmed my journey home (or to a specific site or attraction) with options for bus vs tube vs walk vs über, cost and time considerations and a gps map allowing you to plot your walking journey between each station or leg of the journey. You can put in all your deets and, using data or wifi, get the info up and [for tight ass travellers like me] even without data you can use the stored information to access on your journey! Including the satellite mapping of where you are and your route. Mind blown.
The iconic sites have had me pinching myself on oh-so-many occasions, feeling so surreal to be standing at the foot of some of the most recognised spots in the world. These include – but are not limited to – London Bridge, Big Ben, Trafalgar Square, Piccadilly Circus, Electric Avenue, the Shard, the Gherkin, Glastonbury [which is out of London, obvs, but iconic none the less], Downing Street, Buckingham Palace … the list is endless. As I walked from Trafalgar Square to Big Ben – the beautifully ornate buildings of London alongside me and decorated with hanging flower pots, a red bus driving past me and a telephone box up ahead, and Big Ben standing proud up ahead at the end of the street – I was overwhelmed with gratitude at our ability to see and experience all that we desire. Without getting to hippie and sentimental, the ability to travel and see the world, is such a fucking gift and one that I'm becoming exceedingly more grateful for as time goes on.

Now – without stepping on too many toes or offending anyone – I was a little unsure of what to expect people wise and their friendliness. Mixed reviews from people who had lived there, people who had visited, as well as seasoned locals, made me think that maybe it wasn't a place where I could get away with my overly enthusiastic smiling and "how are you?!"s. BUT I've actually found the people whom I've crossed paths with, literally and figuratively, are some of the greatest humans that I've been lucky enough to meet. Even on the street, when I've been totally lost finding a station entrance or figuring out the frikkin pence [why on bloody earth is 10p bigger than the 20p?!] – everyone has been so willing to help a chicka out. So my advice? Be friendly, be grateful and if you don't ask, you'll never know! Cheesy tourist photos included!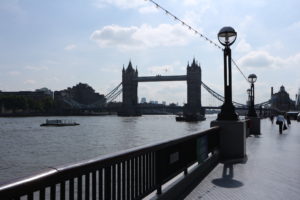 Overall – London has absolutely blown me away in terms of its cultural diversity, its sheer size, its beauty and its energy. I am counting my blessings at every corner that I have found myself here and ticking off the bucket list sites and experiences that have long pulled at my wanderlust strings.
Cheerio London, you've been well brill.
Blessings and so many pints x