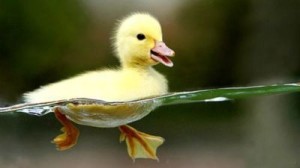 Today's 'warm fuzzy' dish up is served courtesy of Animals Australia. Just over two months ago, they launched their latest ad campaign and it went megaviral. The video is titled 'People Being Awesome' and, without giving too much away, it showcases our instinctual desires and behaviours to look after the vulnerable. The campaign launched in an effort // plea to the Victorian government to change their policy on duck shooting. An important message, and an important video.
Sometimes Friday's call for some heartwarming feels, cha know?
So please click on the following link to get your dose of happies –  People Being Awesome.
Blessings and fluffy kisses and cuddles for the ducks x
Image found : here